News > Business
Hackers show their skills
Tue., Aug. 2, 2005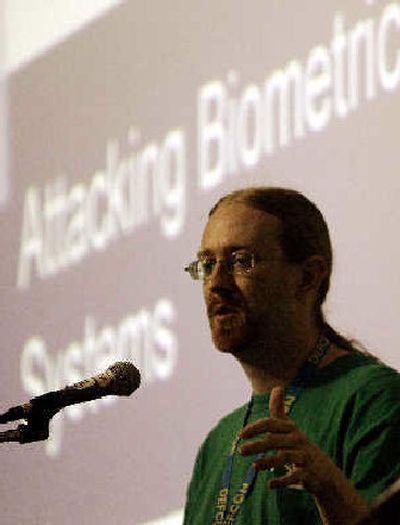 LAS VEGAS – Even the ATM machines were suspect at this year's Defcon conference, where hackers play intrusion games at the bleeding edge of computer security.
With some of the world's best digital break-in artists pecking away at their laptops, sending e-mails or answering cell phones could also be risky.
Defcon is a no-man's land where customary adversaries – feds vs. digital mavericks – are supposed to share ideas about making the Internet a safer place. But it's really a showcase for flexing hacker muscle.
This year's hot topics included a demonstration of just how easy it may be to attack supposedly foolproof biometric safeguards, which determine a person's identity by scanning such things as thumb prints, irises and voice patterns.
Banks, supermarkets and even some airports have begun to rely on such systems, but a security analyst who goes by the name Zamboni challenged hackers to bypass biometrics by attacking their backend systems networks. "Attack it like you would Microsoft or Linux," he advised.
Radio frequency identification tags that send wireless signals and that are used to track a growing list of items including retail merchandise, animals and U.S. military shipments – also came under scrutiny.
A group of twentysomethings from Southern California climbed onto the hotel roof to show that RFID tags could be read from as far as 69 feet. That's important because the tags have been proposed for such things as U.S. passports, and critics have raised fears that kidnappers could use RFID readers to pick traveling U.S. citizens out of a crowd.
RFID companies had said the signals didn't reach more than 20 feet, said John Hering, one of the founders of Flexilis, the company that conducted the experiment.
"Our goal is to raise awareness," said Hering, 22. "Our hope is to spawn other research so that people will move to secure this technology before it becomes a problem."
Erik Michielsen, an analyst at ABI Research, chuckled when he heard the Flexilis claims. "These are great questions that need to be raised," he said, but RFID technology varies with the application, many of which are encrypted. Encryption technology uses an algorithm to scramble data to make it unreadable to everyone except the recipient.
Also on hand at the conference was Robert Morris Sr., former chief scientist for the National Security Agency, to lecture on the vulnerabilities of bank ATMs, which he predicted would become the next "pot of gold" for hackers.
The Internet has become "crime ridden slums," said Phil Zimmermann, a well-known cryptographer who spoke at the conference. Hackers and the computer security experts who make a living on tripping up systems say security would be better if people were less lazy.
To make their point, they pilfered Internet passwords from convention attendees.
Anyone naive enough to access the Internet through the hotel's unsecured wireless system could see their name and part of their passwords scrolling across a huge public screen.
It was dubbed the "The Wall of Sheep."
Among the exposed sheep were an engineer from Cisco Systems Inc., multiple employees from Apple Computer Inc. and a Harvard professor.
Local journalism is essential.
Give directly to The Spokesman-Review's Northwest Passages community forums series -- which helps to offset the costs of several reporter and editor positions at the newspaper -- by using the easy options below. Gifts processed in this system are not tax deductible, but are predominately used to help meet the local financial requirements needed to receive national matching-grant funds.
Subscribe now to get breaking news alerts in your email inbox
Get breaking news delivered to your inbox as it happens.
---