Sports
Twins defeat Mariners for sixth straight victory
Sat., Aug. 20, 2005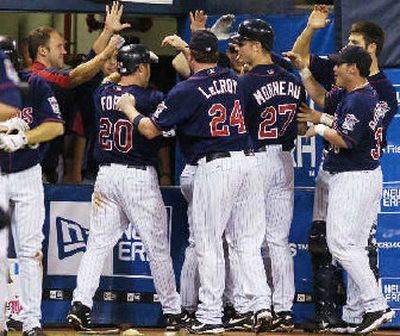 MINNEAPOLIS – At last, Carlos Silva got some help from his offense.
Lew Ford hit a tiebreaking, three-run homer in the seventh inning, Silva won for the first time since July 4 and the surging Minnesota Twins rallied past the Seattle Mariners 7-4 Friday night for their sixth straight victory.
Joe Mauer also homered and drove in two runs for Minnesota, which has won 8 of 9. The Twins began the day 3 1/2 games behind A.L. wild-card leader Oakland.
With the score tied at 4 and two outs in the seventh, Ford hit a 1-0 pitch from Jeff Nelson into the left-field seats. It was the first three-run homer for the Twins since July 2.
"I wasn't thinking home run because I haven't hit one for a while," said Ford, who last connected on June 16. "I was really just trying to wait back and hit a line drive somewhere up the middle, maybe to right-center."
George Sherrill (1-2) took the loss, giving up a bloop double to Justin Morneau when Willie Bloomquist overran the ball in short right field with one out in the seventh. Nelson replaced Sherrill two batters later.
"Nelson's tough on right-hand hitters, but it just didn't happen tonight," Seattle manager Mike Hargrove said.
Silva (8-6) allowed four runs – three earned – and eight hits, needing only 77 pitches to get through seven innings.
He finally got some run support, too. Since his previous win, Minnesota had averaged 2.77 runs per game for Silva. His ERA during that span was 2.60.
"The pitchers can't control what we do offensively," manager Ron Gardenhire said. "I'm sure the pitchers are happy we're scoring some runs for them."
Seattle had pinch-runner Jamal Strong on second with one out in the seventh, but Yorvit Torrealba flied out and Ichiro Suzuki grounded out.
Juan Rincon pitched a scoreless eighth, and Joe Nathan worked a perfect ninth for his 31st save in 34 tries.
In five innings, Seattle starter Gil Meche, winless since July 17, allowed three runs and five hits. Meche gave up 15 earned runs in 14 innings in his previous two starts.
"I'm not being real consistent with my fastball," he said. "It's not me on the mound as a pitcher and that's why I'm struggling."
Seattle nearly broke the game open in the third. Singles by Yuniesky Betancourt, Torrealba and Ichiro loaded the bases before an error by Morneau at first base allowed two runs to score. Raul Ibanez added a sacrifice fly for a 4-2 Mariners lead.
"Even when they scored four runs in the second and third innings, I had a lot of confidence. I told myself if I keep the score there we're still going to win the game," Silva said. "When Lew hit the homer I was pumped."
Silva helped his own cause to end the third-inning threat. After fielding Richie Sexson's grounder, he threw to second, where Brent Abernathy tagged Bloomquist, who was diving back to the bag. From his seat, Abernathy threw out Sexson at first.
"I think he showed more arm strength from his back than he does standing up," Gardenhire said with a smile.
Mauer homered in the third, and Michael Cuddyer's RBI double in the sixth tied it at 4.
Mauer had a sacrifice fly in the first, and Morneau's run-scoring single made it 2-0 Twins.
Jeremy Reed hit a solo home run for Seattle in the second.
Local journalism is essential.
Give directly to The Spokesman-Review's Northwest Passages community forums series -- which helps to offset the costs of several reporter and editor positions at the newspaper -- by using the easy options below. Gifts processed in this system are not tax deductible, but are predominately used to help meet the local financial requirements needed to receive national matching-grant funds.
Subscribe to the sports newsletter
Get the day's top sports headlines and breaking news delivered to your inbox by subscribing here.
---