Sports
Big Unit's struggles continue
Tue., Aug. 23, 2005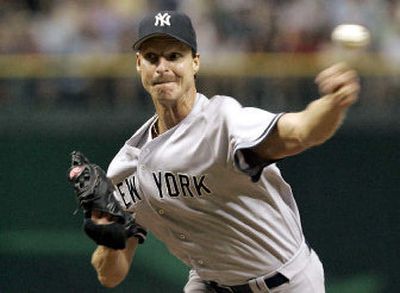 NEW YORK – You hang around the aging, mercenary starters at Yankee Stadium long enough, two paradoxes become painfully clear.
The more they say their choice of uniform isn't about money, the more it's about the money. And the more they say their slump has nothing to do with velocity, the more it's about the velocity.
Which brings us to Randy Johnson, who signed a two-year, $32 million contract extension with the Yanks and on most nights can't seem to throw the ball over 93 mph. There is no service warranty on this sort of thing for general manager Brian Cashman. So Johnson will keep taking his turn on the mound, and he must learn to work with his new, slower stuff.
"In the past, he's missed his spots and had enough to get away with it," backup catcher John Flaherty said. "He's shown us 95 … 96 … It's just a question of mechanically getting it right, and he hasn't gotten there yet."
The Yanks are tied for the wild-card lead with the A's, but Johnson remains the biggest topic of conversation right now around the Yankee clubhouse, a 6-10 presence even when he isn't pitching.
Johnson is still, somehow, expected to lead the Yanks well into October – even with those 29 homers given up and that 4.34 ERA.
But Nothing prepared Johnson or manager Joe Torre for what happened on Sunday, in that four-homer fourth inning.
"It wasn't one of the things I used to sit home and dream about," Torre said.
Local journalism is essential.
Give directly to The Spokesman-Review's Northwest Passages community forums series -- which helps to offset the costs of several reporter and editor positions at the newspaper -- by using the easy options below. Gifts processed in this system are not tax deductible, but are predominately used to help meet the local financial requirements needed to receive national matching-grant funds.
Subscribe to the sports newsletter
Get the day's top sports headlines and breaking news delivered to your inbox by subscribing here.
---