Sports
Bigger doesn't mean better
Tue., Aug. 23, 2005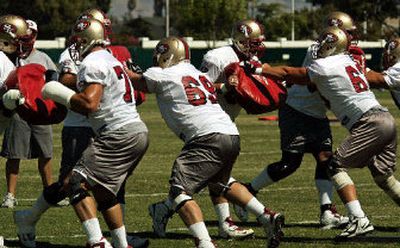 WALNUT CREEK, Calif. – We don't know why San Francisco 49ers offensive lineman Thomas Herrion collapsed during a postgame prayer Saturday night and was later pronounced dead at the hospital.
We don't know if toxicology reports will explain why the 23-year-old's life ended moments after he jogged off the field smiling and waving at fans after an exhibition loss to the Denver Broncos.
We do know that football does not promote a healthy lifestyle, which is why the life expectancy of an NFL player is shorter than athletes in baseball, basketball or hockey.
Even boxers live longer than football players.
We're not just talking about the damage done to joints, which makes arthritis and knee- and hip-replacement surgeries part of life for many ex-players. The game has gotten too weight conscious. Scales, stopwatches and tape measures sometimes are emphasized over all else. Some teams have minimum height and weight requirements for potential draftees at each position.
It's that bigger-is-better mentality that encourages athletes to bulk up and has turned an oddity – a 300-pounder like Herrion – into a commodity.
The offensive line of the 1966 Green Bay Packers, the first Super Bowl champions, averaged 244 pounds per man. The Super Bowl champion Chicago Bears averaged 274 in 1985. The Raiders had the beefiest line in the league last year, averaging 321 pounds. The Denver Broncos were the lightest at a mere 296.
Thirty-nine NFL players weighed more than 300 pounds in 1990.
There were 378 300-pounders on preseason rosters last year.
Fifty-eight of 61 offensive linemen at February's NFL scouting combine weighed at least 300 pounds. Two others weighed 298 pounds and one tipped the scales at 299. Whatever happened to technique?
We don't know if Herrion died of heart failure, but at 6-foot-3 and 330 pounds, he was at a greater risk for diabetes, heart disease and high cholesterol.
The National Institute of Occupational Safety and Health surveyed 7,000 former players in 1994 and found that linemen had a 52 percent greater risk of dying from heart disease than the general population. Dr. Arthur Roberts, a former NFL quarterback, is collecting data from current and former players to study the cardiovascular consequences of carrying around all that extra tonnage.
"In the general population, large body size is associated with cardiovascular risk factors that lead to heart attacks and stroke," he said when asked if heavier players expect more health problems. "It's fair to question."
Football players are trying to gain weight when the health and wellness community is trying to convince the rest of us to lose weight. High school players stuff themselves to pack on the pounds. College players will try to add 20, 30 and even 40 pounds during an off-season, often at the behest of a coach.
Players at all levels eat when they're not hungry and continue to eat when they're full, which can create eating habits that are difficult to break when retirement comes and intense exercise is no longer a daily ritual.
Why have one steak when you can have three, regardless of how much stress it puts on your body? Between meals, players slurp muscle-building supplements.
"It's all natural," players, coaches and even trainers rationalize about protein powder, for example. But what's "natural" about ingesting a week's worth of protein in one sitting?
If you happen to see a recently retired player, especially a lineman, it's often a story of the incredible shrinking man.
Former Broncos nose guard Greg Kragen dropped from 280 to 225 when he retired. Brad Culpepper, a defensive tackle for Tampa Bay, played at 275. He weighs 195 four years after retirement.
"I'm sure your heart doesn't appreciate that kind of weight," said 6-foot-3, 300-pound 49ers offensive guard Scott Peters.
Former Raiders offensive lineman Gene Upshaw has been quoted extensively in articles about Herrion. Upshaw, the current NFL Players Association president, played at 255 during his Hall of Fame career.
It's not as if the game today is superior to when Upshaw played. The overabundance of 300-pounders hasn't made it a better game. Size is overrated.
"No one has data to suggest extra weight wins more football games," said Roberts, who played quarterback for the Browns and Dolphins in the mid-1960s. "Clearly, it has evolved. Everybody is bigger, but the old standbys of courage, guts and determination is as important, if not more important, than body size."
Some believe the weight race began in 1978, when the NFL changed blocking rules, allowing linemen to extend their arms and use their hands when they block, which created an emphasis on bulk over maneuverability.
Maybe it's time to re-examine those rules to emphasize speed and quickness over mass. Maybe the league should mandate that players maintain a reasonable weight based on their body size.
Local journalism is essential.
Give directly to The Spokesman-Review's Northwest Passages community forums series -- which helps to offset the costs of several reporter and editor positions at the newspaper -- by using the easy options below. Gifts processed in this system are not tax deductible, but are predominately used to help meet the local financial requirements needed to receive national matching-grant funds.
Subscribe to the sports newsletter
Get the day's top sports headlines and breaking news delivered to your inbox by subscribing here.
---