Sports
More questions for Gates
Tue., Aug. 23, 2005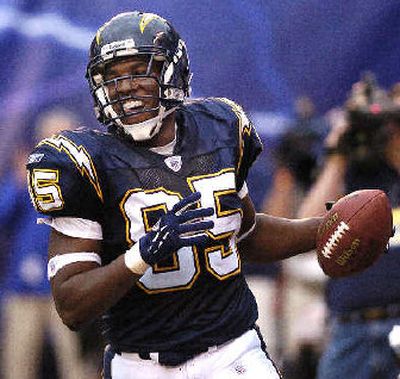 Antonio Gates hadn't even stepped on the field and he already was running some zigzag routes.
Besides contradicting his agent, the record-setting tight end said on Monday that travel problems kept him from reporting to training camp by Saturday afternoon, as mandated by the San Diego Chargers.
Missing the deadline had serious consequences. The Chargers say they will place the All-Pro on the Roster Exempt List, meaning he'll have to sit out the final two exhibition games and the season opener against Dallas on Sept. 11.
"You don't understand," Gates said during a nine-minute news conference before he was hustled off to a meeting. "I tried to come in Saturday, but I couldn't get a flight. So we ended up calling and explaining we weren't able to make it in Saturday. So it wasn't my intention to actually miss the deadline."
That was news to the Chargers, who despite 10 months of talks have been unable to agree with Gates' agent on terms of a long-term contract.
The team never mentioned Gates' failure to get a flight, either in a statement Saturday afternoon announcing that Gates had missed the deadline, or on Sunday when general manager A.J. Smith held a news conference at halftime of a 36-21 exhibition win over St. Louis.
49ers return to practice
Less than 48 hours after their teammate collapsed and died, the 49ers went back to work.
The team held a light afternoon practice, but the subdued atmosphere at San Francisco's training complex showed that Thomas Herrion, the popular offensive lineman who died early Sunday, was still on the players' minds.
Authorities might not know for weeks why Herrion died after a preseason game in Denver on Saturday night, but no answer will seem logical to his teammates.
There were flower arrangements in the complex's lobby, and grief counselors were available to the players when they arrived at work. The 49ers, who had a regular day off Sunday, canceled their Monday morning practice and closed their locker room to reporters.
Everyone in the organization is expected to attend a private memorial service tonight in nearby Mountain View, Calif.
Manning's elbow injury not serious
Eli Manning's elbow is sprained, bruised, sore and nothing serious – certainly not cause for the Giants to worry over who'll be under center when the regular season begins.
Manning will sit out New York's preseason game against the New York Jets on Friday. If it were a big game, though, the No. 1 draft pick said he'd play.
"…If it was an important game then I could still throw the football," Manning said.
Coach Tom Coughlin said he felt Manning would be ready to play in time for the season opener against Arizona on Sept. 11.
Patriots acquire Davis
Wide receiver Andre' Davis, pushed to the bottom of Cleveland's depth chart, was traded to the New England Patriots by the Browns for an undisclosed draft pick.
For New England, Davis adds a veteran presence to an already deep receiving corps. He arrived at Gillette Stadium in Foxboro, Mass., to begin practicing with the Super Bowl champions.
Around the league
After microfracture surgery last November, Stephen Davis was on the field for the first time at the Carolina Panthers' training camp, participating in a few individual drills. … Steelers nose tackle Casey Hampton, a former Pro Bowl player coming off a knee injury that sidelined him for all but six games last season, signed a five-year contract extension that runs through the 2009 season. … Top draft pick, Adam "Pacman" Jones finally signed his five-year contract and joined the Tennessee Titans in practice after a holdout caused him to miss 31 practices. … Running back Troy Hambrick was one of nine players released by the Cardinals. … The Jets waived receiver Jonathan Carter and rookie linebacker Mondoe Davis.
Local journalism is essential.
Give directly to The Spokesman-Review's Northwest Passages community forums series -- which helps to offset the costs of several reporter and editor positions at the newspaper -- by using the easy options below. Gifts processed in this system are not tax deductible, but are predominately used to help meet the local financial requirements needed to receive national matching-grant funds.
Subscribe to the sports newsletter
Get the day's top sports headlines and breaking news delivered to your inbox by subscribing here.
---