Sports
Menacing look suits Hutch
Fri., Dec. 23, 2005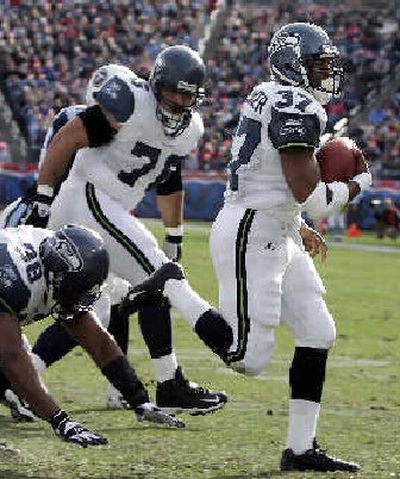 KIRKLAND, Wash. – He didn't look this way when he got here. Not so … what's the word?
Tough? Mean?
He used to be so clean-cut, with the flat-top haircut and the flecks of youthful facial hair that passed for a goatee.
His rookie press conference was dominated by talk of hunting and fishing. Things big, tough, innocent guys like to do.
And now? Now he's just so … menacing.
A menace, yes. That's the best description.
Now Steve Hutchinson's hair is longer, his stringy bangs reaching down to his eyebrows. And he always has that 5 o'clock shadow, even a few minutes after he shaves.
His look is more confident, his intimidating gait a bit more relaxed.
Hutchinson is all grown up now, a man inside a giant's body, not to mention one of the most feared interior offensive linemen in all of football.
"He's probably the strongest dude I've ever faced on the field," Tennessee Titans defensive tackle Albert Haynesworth told The Tennesseean newspaper after last Sunday's game.
"He's the strongest offensive lineman I've ever seen play the game," echoed Seahawks defensive tackle Craig Terrill two days ago. "I played against him in college and in practices here, and he's always been a step ahead of everyone else."
With equal parts size, ability and serious attitude, Hutchinson has truly become a menace.
As if his 6-foot-5, 313-pound frame weren't imposing enough, his game face is even more intimidating.
"I could tell (during my first training camp in 2004) that he was a fierce guy," said teammate Sean Locklear, no slouch himself at 6-3, 301 pounds. "There's a time and place to have fun, but when he's in his mode on game day, you stay out of his way."
Or you'll get cleared out of the way, like Haynesworth and many other top-flight defensive linemen have learned. Recently named to his third consecutive Pro Bowl, Hutchinson has a way of making space for running back Shaun Alexander or keeping opposing players' mitts off quarterback Matt Hasselbeck.
"He's got that defensive mentality," backup quarterback Seneca Wallace said. "He's an aggressive guy, really physical. … But he's a fun guy to be around."
Hutchinson's fun side disappears on game days. He's been known for his mean streak from back at his days at the University of Michigan.
"I'm pretty relaxed until 20 minutes before we go out for pregame warm-ups," Hutchinson said this week. "You can mentally drain yourself if you sit there all morning and think about it. I kind of fade in and out of game mode."
As best he can remember, Hutchinson has always had the advantage of size on everyone his age. He was a tall kid, and grew into a lanky teenager heading into high school.
Then, during his sophomore year at Coral Springs (Fla.) High School, Hutchinson found a way to become more intimidating. He saw an opportunity to get a college football scholarship, so the three-sport athlete dedicated himself to bulking up in the weight room.
"If you play football," he said, "you've got to lift weights."
With plenty of interest coming in from colleges, Hutchinson decided to drop baseball and basketball from his repertoire and concentrate on playing football. After a stellar four-year career at Michigan, he became one of those rare interior offensive linemen who got selected in the first round of an NFL draft.
He started his first game as a Seattle Seahawk and has never looked back, getting named to Pro Bowls in three of his five NFL seasons.
"He's one of the best in the league right now," tight end Itula Mili said. "Whenever you talk to players around the league, they say, 'Hutch is one of the best in the game.' It's not only his natural talent, but also the hard work he puts into it."
Hutchinson's early success has been a big reason why the Seahawks will extend their streak of playoff appearances to three years next month, but it could also be the reason why it might be hard for them to keep him.
Just 28 years old, and with three Pro Bowl appearances on his resume, Hutchinson could very well be the most sought-after interior lineman this league has seen in a long, long time. The impending free agent will probably command a bigger salary than the five-year, $20 million deal guard Marco Rivera signed with the Dallas Cowboys last March.
His price tag might even be in the neighborhood of the $8.5 million-per-year that's given to franchise tackles, even though interior offensive linemen rarely make the same money that the outside guys do.
Hutchinson will definitely make a lot more than the current five-year, $6.8 million deal he signed as a rookie.
But all that is for another time. For now, Hutchinson is keeping his sights set on the immediate future.
Local journalism is essential.
Give directly to The Spokesman-Review's Northwest Passages community forums series -- which helps to offset the costs of several reporter and editor positions at the newspaper -- by using the easy options below. Gifts processed in this system are not tax deductible, but are predominately used to help meet the local financial requirements needed to receive national matching-grant funds.
Subscribe to the sports newsletter
Get the day's top sports headlines and breaking news delivered to your inbox by subscribing here.
---