Sports
Solid effort not enough for Eagles in 2-point setback
Fri., Feb. 25, 2005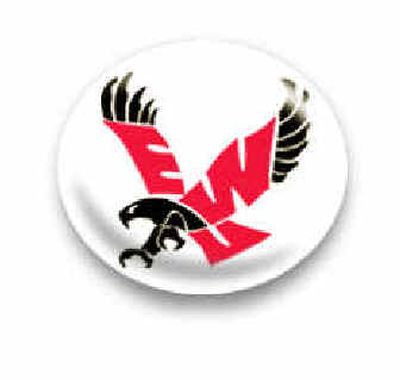 MISSOULA – Eastern Washington University's defense rendered Montana's top two scorers invisible for almost 35 minutes Thursday night.
Then Kevin Criswell, who didn't score a basket until 2:40 remained, drained his second with 3.6 seconds to play, and the Grizzlies secured both a 55-53 win over the Eagles, and a spot in the Big Sky Conference men's basketball tournament.
Criswell's 15-foot, fade-away jumper left the Eagles (8-18, 5-8) just one-half game ahead of Northern Arizona for the sixth and final spot in the tourney.
"I told the players we've got to let this one go when we leave the arena tonight," EWU coach Mike Burns said. "Your chins are stuck on your chests right now and that's understandable. But you played your tails off. There's no reason to hang your heads over the effort. And we're still by no means out of it."
Criswell and Kamarr Davis combined for half of Montana's points in a 68-58 Grizzly win at Eastern last month. But Davis, who had 18 points in Cheney, was held scoreless until there was 5:34 to play and finished with four points. Criswell, who had 16 in the earlier game, was held to seven.
It was Matt Dlouhy, a sophomore forward from Lake City High, who fueled the Grizzlies on this night.
Dlouhy scored 18 points, 13 over a 7 1/2 -minute stretch early in the second half when Montana erased a 20-19 halftime deficit and took its largest lead, 38-32, with 10:41 to go.
Eastern – which held the largest lead of the night just more than 2 minutes into the game, at 8-0 – scored the next nine points to reclaim the lead.
"A lot of credit goes to them, to come in here and put all that heat on us," said Montana coach Larry Krystkowiak, whose club improved to 13-12, 7-5 in conference. "There was nothing easy tonight."
Deuce Smith hit 8 of 11 field goals and all three of his 3-pointers to score 19 points for Eastern. His last basket, a 3-pointer with 2:14 to go, gave the Eagles their last lead at 51-50.
"Deuce has been big the last couple of weeks," Burns said. "He's really stepped up when the team needed him."
Montana's John Seyfert made one of two free throws with 1:17 left and hit two more with 43.8 seconds to play to put the Grizzlies up 53-51.
Marc Axton, who had 14 points and guarded Davis much of the night, made two foul shots with 34.3 seconds remaining to tie it at 53. The Grizzlies ran the clock down, setting up Criswell's shot.
Axton bobbled Eastern's ensuing inbounds pass at halfcourt and was called for over-and-back, and the Eagles didn't get off a final shot.
Eastern had 16 more field goal attempts than Montana, but the Grizzlies had 22 more tries from the free-throw line. UM was 18 of 32 there, to Eastern's 5 of 10.
Eastern held Montana's starting five to two field goals, both by Dlouhy, in the ugly first half that saw the two teams combine for 25 turnovers and shoot 31 percent.
The Eagles play at Montana State Saturday. NAU, one of the teams they're battling for that tourney spot, has two home games left, against Sacramento State and Montana.
Montana 55, Eastern Washington 53
Eastern Washington (8-18, 5-8)–Pariseau 0-6 0-0 0, Axton 4-12 3-5 14, Nelson 4-7 1-3 9, Scheffler 2-5 0-0 6, Smith 8-11 0-0 19, Henkel 0-1 0-0 0, Bekkering 0-1 0-0 0, Loe 0-3 0-0 0, Beitinger 1-4 1-2 3, Butorac 1-3 0-0 2, Nicholas 0-0 0-0 0. Totals 20-53 5-10 53.
Montana (13-12, 7-5)–Dlouhy 5-9 5-6 18, Davis 2-8 0-2 4, Seyfert 1-2 3-6 5, Criswell 2-5 3-4 7, Martin 2-5 6-7 10, Matthews 1-1 0-2 2, Hasquet 0-0 0-0 0, Strait 2-2 0-2 4, Farr 1-3 1-3 3, Easley 1-2 0-0 2. Totals 17-37 18-32 55.
Halftime–Eastern Washington 20, Montana 19. 3-point goals–Eastern Washington 8-21 (Smith 3-3, Axton 3-10, Scheffler 2-4, Henkel 0-1, Bekkering 0-1, Pariseau 0-2), Montana 3-9 (Dlouhy 3-4, Farr 0-1, Criswell 0-2, Martin 0-2). Fouled out–Axton, Loe. Rebounds–Eastern Washington 30 (Nelson, Smith 6), Montana 33 (Farr 6). Assists–Eastern Washington 11 (Pariseau 4), Montana 6 (Criswell 3). Total fouls–Eastern Washington 25, Montana 16. Technicals–Montana bench. A–3,511.
Local journalism is essential.
Give directly to The Spokesman-Review's Northwest Passages community forums series -- which helps to offset the costs of several reporter and editor positions at the newspaper -- by using the easy options below. Gifts processed in this system are not tax deductible, but are predominately used to help meet the local financial requirements needed to receive national matching-grant funds.
Subscribe to the sports newsletter
Get the day's top sports headlines and breaking news delivered to your inbox by subscribing here.
---