Sports
Charlotte expansive in its praise of franchise centerpiece
Sat., Jan. 8, 2005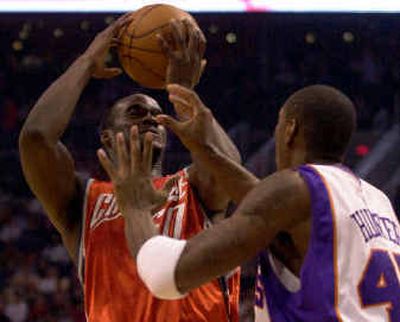 CHARLOTTE, N.C. — When Emeka Okafor broke Shaquille O'Neal's rookie record for consecutive double-doubles, O'Neal softly — and sarcastically — clapped his hands.
"He gets the golf clap," O'Neal said. "There's only one me. There won't ever be another like me."
Maybe so, but there's no denying that Okafor has turned plenty of heads in his rookie season — just like O'Neal did on the way to becoming one of the 50 greatest players in NBA history.
Okafor, the No. 2 pick in the NBA draft, has settled right into his role as the cornerstone of the expansion Bobcats and quickly caught the eye of his opponents.
He's been named the NBA's rookie of the month the two times the award has been given this season, and his streak of 19 straight games in double figures in points and rebounds broke O'Neal's mark of 16.
The streak was broken this week in a loss to Cleveland, but Okafor picked right back up two nights later with 18 points and 10 rebounds in a win over Minnesota in which Okafor spent most of the night guarding Kevin Garnett.
"If he continues to work and become more polished, he can be really special," Garnett said. "He's playing like an animal right now."
The Bobcats never wavered in their desire to draft Okafor. Coach and general manager Bernie Bickerstaff spent five days scouting last year on Connecticut's campus.
Okafor was everything the Bobcats wanted to build their franchise around. A proven winner, he led UConn to the national title last season and was the Most Outstanding Player of the NCAA Tournament.
He's tough, strong, takes pride in defense and is extremely intelligent. An Academic All-American, Okafor graduated in three years with a degree in finance and a 3.8 grade point average.
Still, there were questions.
He sat out three games at UConn last season with a back injury that had some NBA scouts concerned. And he was dogged by the perception he couldn't star on offense.
"The word coming out of college was he would be great defensively and on the boards but would struggle offensively," Miami coach Stan Van Gundy said. "He hasn't at all. He's got good, quick moves around the basket and he has shot the ball extremely well.
"He has proven to be an offensive force and he seems to be getting better and better."
Heading into the weekend, Okafor was averaging 15.8 points per game. His 11.4 rebounds per game ranked third in the NBA. If his productivity has caught some by surprise, Okafor isn't among them.
"I have no idea why people think that about me. I led (UConn) in scoring in a system that was not designed for me to score all the time," Okafor said. "I know I can score, and I don't really understand why people are surprised to see my scoring in the NBA."
Still, the questions were strong enough that the Orlando Magic passed on Okafor with the No. 1 pick in the draft. When the Magic called high schooler Dwight Howard's name on draft night, a crowd of about 14,000 at the Charlotte Coliseum erupted into cheers and Bobcats management let out a sigh of relief.
They had traded up from No. 4 to No. 2 to position themselves for a shot at Okafor, then had to hope the Magic wouldn't take him first.
The Bobcats would have been pleased with Howard, they insisted, but Okafor was a far better fit for a startup. They needed someone who could handle being the face of the franchise, and understand that every personnel move Charlotte makes is based around him and the long-term results it can produce.
"His maturity is important because he has the ability to see the big picture," Bickerstaff said.
"We are trying to lay a foundation, and he sees the big picture. We're going to put this together, we're going to find the big pieces, and he makes it easier with his approach to the game."
Making the U.S. Olympic team was an extra bonus in Okafor's development. He didn't play much, but spent as much time learning about the NBA from his teammates as he did soaking up the history and culture in every country the team traveled to.
Bickerstaff said Okafor's willingness to observe and learn, and his attention to detail, will make him an NBA standout.
"He's a guy with a routine. If his routine is disoriented in any way, it impacts his game," Bickerstaff said. "All the great players I've been around, they had a routine. He gets it. A lot of pro players don't understand responsibility. You don't just show up because you are good."
The question now is whether Okafor can sustain his level of play and win Rookie of the Year honors. With an even temperament — Okafor said he only gets excited "about the big stuff, like winning a national championship and getting drafted" — he refuses to look that far ahead.
"It's way too early, we've got way too many games left for me to be even thinking about that," Okafor said.
"I could go out there and tank it from here on out and someone else could play great. So right now I am just worrying about doing my job and doing it as well as I can, and nothing else."
Local journalism is essential.
Give directly to The Spokesman-Review's Northwest Passages community forums series -- which helps to offset the costs of several reporter and editor positions at the newspaper -- by using the easy options below. Gifts processed in this system are not tax deductible, but are predominately used to help meet the local financial requirements needed to receive national matching-grant funds.
Subscribe to the sports newsletter
Get the day's top sports headlines and breaking news delivered to your inbox by subscribing here.
---