News > Idaho
Flag team top priority for Post Falls senior
Sat., Jan. 8, 2005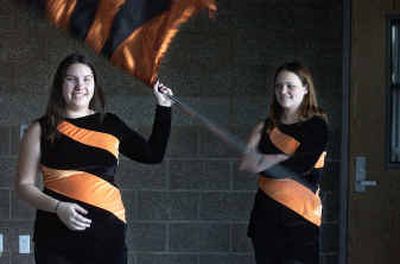 With twists and twirls, Brianna Boyles turned around her outlook on high school.
Boyles, 17, tried out for the Post Falls High School flag team her sophomore year, following the lead of two of her sisters. Christie, a 1998 graduate, and Brianna's twin, La Rae, were both on the flag team.
Brianna said she was lucky to pass her classes her freshmen year, but her grades improved once she got into the team. She brought her 1.2 grade-point average to nearly 3.0.
"I actually enjoyed it," she said. "My schoolwork got better because I had to have better grades to stay on the team."
She said she's also seen herself improve in leadership and sportsmanship since joining the team. Other team members often look to her for advice. But when they complain about tough practices, this straight-talking senior is the first to speak up and iron things out.
"I'm just a natural-born leader; it's what I've always done," she said.
While the team doesn't have captains, Boyles acts as the senior liaison between coach Denise Durflinger and the team, and she often steps in as assistant coach when needed. Durflinger said she depends on Boyles to teach newcomers certain moves and help correct footing, twirls or hand movements.
Durflinger said Boyles has got a strong head on her shoulders, which has helped during her time with the team.
"You can show her something, and within half an hour she's got it memorized," Durflinger said.
Boyles joined the team shortly before one of the team's year-end performances, during the Lilac Parade in Spokane. Durflinger said that within a week, Boyles had the team's routine memorized. The team practices about 50 different kinds of twists, tosses and turns with two types of flags. One is on a 6-foot-long pole; the other is on a shorter pole about the size of a baton.
Durflinger said the tall-flag moves are easier and typically take about a month to learn. Short-flag skills are harder, and some girls who joined the team in August are still learning.
Durflinger said Boyles' dedication shows through when she comes to practice every day and sticks with the team at all costs.
She remembers Boyles' first year, when she worked through a shoulder injury. Boyles has tendinitis in her right shoulder, and after joining the team her shoulder swelled, causing it to dislocate. But she stayed on the team and relearned the routine in time for the Christmas parade in Coeur d'Alene.
Boyles said it was tricky because most moves start on the right-hand side. With her right arm in a sling, she twirled through the parade one-handed while marching through the rain.
"She's always willing to go that extra for the team," Durflinger said. The group competes at parades and school competitions, including a competition at Post Falls High School on Jan. 29 against other area dance and cheerleading teams.
The team meets weekdays at 6:30 a.m. for a one-hour practice.
Sometimes Broyles plays the part of a taxi driver to help other teammates make it to practice. "We're not a team; we're best friends getting together and doing what we do," she said.
Preparing for competitions is the toughest part about being a leader on the team, she said. Practices can get nerve-wracking as deadlines near, and securing small details in the team brings butterflies to her stomach.
When she feels stress coming on, she'll turn on the sarcasm or step in with comic relief to keep the team in high spirits, she said. When she messes up, she makes a joke of it.
"There are times when I just goof off because I get too bored being so serious," she said.
But she's serious about sticking with the team. It's one of her top priorities now, and she hopes to return to the school after she graduates to help the team as an assistant coach.
Local journalism is essential.
Give directly to The Spokesman-Review's Northwest Passages community forums series -- which helps to offset the costs of several reporter and editor positions at the newspaper -- by using the easy options below. Gifts processed in this system are not tax deductible, but are predominately used to help meet the local financial requirements needed to receive national matching-grant funds.
Subscribe now to get breaking news alerts in your email inbox
Get breaking news delivered to your inbox as it happens.
---