News > Idaho
Commission gets new look
Tue., Jan. 11, 2005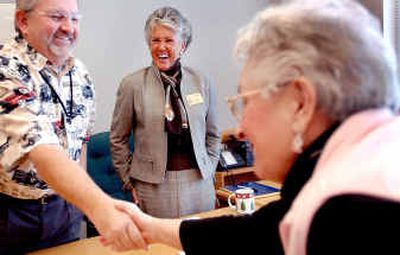 Kootenai County Commissioner Gus Johnson doesn't really want anyone to call him chairman.
To him, it's just a title that gives the power to run the commission's business meetings.
"We are a team and we will work that way," Johnson said Monday after the three-member board unanimously elected him chairman.
It was a big day for changes in the commission chambers. Commissioner Katie Brodie was officially sworn into office earlier in the morning – seven months after beating Commission Chairman Dick Panabaker in the May Republican primary.
"Yikes," Brodie said after holding up her right hand and pledging to uphold the U.S. Constitution and the constitution and laws of Idaho. "I didn't think this day would really ever get here."
District Court Judge Charles Hosack also swore in Commissioner Rick Currie, who was re-elected in the May primary. Sheriff Rocky Watson and County Prosecutor Bill Douglas also took the oath after winning their re-elections.
But before the ceremony that Hosack called a "time of promise, new beginnings and hopefully one of hope and good will," he asked the crowd of about 100 people for a moment of silence in honor of the Coeur d'Alene Police officer who was shot last month and remains in serious condition in a Seattle hospital.
Officer Michael Kralicek was shot at close range in the jaw during a Dec. 28 shootout in Hayden. The suspect, Michael Madonna, was hit three times and killed by Kootenai County sheriff's deputies.
County officials invited Coeur d'Alene Police Chief Wendy Carpenter to attend the ceremony that Hosack said couldn't overshadow the recent tragedy.
After the swearing-in, Brodie posed for photos and then showed her family, including three grandchildren, her new office with a view of Lake Coeur d'Alene.
Then she anxiously waited for her first meeting to begin, chatting with reporters, opening cards and arranging flowers that had piled up on her desk.
Brodie, a former real estate agent and assistant for Jobs Plus, the local job recruiter, plans to continue her current job as a property manager for Inland Forest Industries.
Once the meeting finally began, Brodie took her seat at the commission table. Then she made her first vote, to elect Johnson chairman.
Johnson said one of his top priorities in 2005 is to get a handle on property taxes in Kootenai County even though that's mostly the responsibility of the Idaho Legislature.
Many longtime residents in Kootenai and Bonner counties are struggling to pay their property taxes because newcomers are paying inflated prices for homes in these resort areas.
The counties are pushing for the Legislature to find a solution so the burden of new growth doesn't fall on the residents who have already paid their share of costs for roads, fire, police and other services over the years.
Another big topic is Kootenai County's push to get the Legislature to expand the half-cent local option sales tax to pay for projects other than jails, Johnson said. Half of the money goes to property tax relief.
Johnson plans to outline the county's agenda in today's 7 a.m. State of the County address to the Coeur d'Alene Area Chamber of Commerce.
The event is at the Coeur d'Alene Resort.
"Do more with less," Johnson said. "That's going to be the battle cry."
Local journalism is essential.
Give directly to The Spokesman-Review's Northwest Passages community forums series -- which helps to offset the costs of several reporter and editor positions at the newspaper -- by using the easy options below. Gifts processed in this system are not tax deductible, but are predominately used to help meet the local financial requirements needed to receive national matching-grant funds.
Subscribe now to get breaking news alerts in your email inbox
Get breaking news delivered to your inbox as it happens.
---