News > Business
A measured success
Fri., Jan. 14, 2005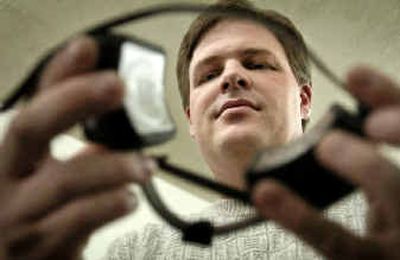 Pete Black and his partners at Second Watch Monitoring don't claim they've built a better mousetrap.
They're simply selling one.
They say they carry a more sophisticated device for tracking a person's blood alcohol level, a major challenge for courts and agencies around the world.
Second Watch Monitoring, which opened its doors in 2003 a block from the Spokane County Courthouse, is one of dozens of companies around the Western United States selling high-tech systems that provide accurate, timely tracking of how well an offender is avoiding booze.
Black, the company president, joined forces two years ago with silent partners RonalEdem, Chris Zbiciak and Derrick Kaina, and formed Second Watch Monitoring as a limited partnership.
Its main expense has been buying 50 units of a blood-measuring device called SCRAM, developed by Denver-based Alcohol Monitoring Systems, Inc. Each unit costs Second Watch $2,300.
Second Watch makes its money by persuading courts to order offenders to use the device as a means of complying with pretrial or probation conditions of avoiding alcohol. The user of the device pays Second Watch, not the court, Black said.
"This system is sophisticated and foolproof," Black asserted. "It's state-of-the-art."
Second Watch got its first contracts in late 2003, convincing a number of Spokane County District Court judges to test the device and see how it worked.
Spokane District Court Judge Rick White has ordered the device in some instances; he has generally positive things to say. "The technology does work," White said.
One of his misgivings, however, is the SCRAM device costs more per day than the most common option available, a breath-testing system called VBM (for video breath monitoring).
"For someone who's got enough income, it's a good option" and can be an effective deterrent, White said.
But Second Watch charges the person going through monitoring a $50 installation fee when the ankle bracelet is attached, then $12 a day, Black said.
Geiger Corrections Center, by contrast, charges nothing to outfit someone with the breath-monitoring device, then a $10 daily fee, said Leon Long, Geiger's interim director. That technology involves random blood alcohol tests where a person steps in front of a video camera in their home or apartment and then blows into a tube.
People who can't afford either option typically go to jail or stay there.
The breathalyzer system has some advantages, people in corrections admit. But one disadvantage it can't overcome is that it only measures blood alcohol at the moment the test is done.
Black said some offenders have learned how to time their drinking to outwit the requests made for a breath test. If they drink the night before and aren't tested until morning, they seem to be clean, he said.
The SCRAM device, powered by a 60-day battery, never stops assessing the level of alcohol in the blood, monitored through perspiration. "It's always working," Black said, "and you instantly cause an alert if the person wearing it tries to move it, take it off or insert something in between the sensor and the ankle."
Each SCRAM can store up to six full days of blood-level data.
Once an hour the device communicates with a wireless modem placed in the home of the person wearing the device. The modem then dials out the data — on schedules set by the corrections staff or by Black — to computer servers based in San Jose, Calif., operated by the product manufacturer.
If the readings show any alcohol in the blood, the San Jose server spots it and sends an alert to the Second Watch office in Spokane. It then ships Second Watch a graphic readout that shows the time sequence of when the alcohol was spotted and what level it reached.
At times, the SCRAM system can be too sensitive. The job at Second Watch is to read the results and spot actual violations.
"If someone gets a sudden spike (on the monitor), it's probably not a drink. That's probably something else, like being around perfume. Or maybe someone is out using a chain saw and some gasoline spilled," Black said.
Consuming booze produces a distinct gradual curve on the graph and shows a steady level of intoxication over time, Black noted.
When that happens, Black e-mails court officials and provides a copy of the reading. Typically, court magistrates then order detention officers or law enforcement to pick up the offender and place him or her in custody.
Since launching in Spokane in late 2003, Second Watch Monitoring has started offering the units to agencies and courts in Lincoln, Pend Oreille, Franklin and Stevens counties, Black said.
Tracy Gunning, director of probation services for Lincoln County, started using the Second Watch-provided devices three months ago. She said the system has been very effective in tracking people going through court-ordered abstinence.
The county also uses random breath tests primarily on people who have been sentenced and now need to stay clean. "But that SCRAM system is our preferred choice for pretrial cases" where people have to stay clean, said Gunning. "So far, we're happy with it."
Black's goal is to grow the two-person company into one that will add three or four more salespeople and several technicians over the next two years. He projects total revenue in 2005 of $180,000.
"Our goal for now is to work with courts around the state, especially in the Vancouver and Seattle area, seeing if we can get business," he said.
Local journalism is essential.
Give directly to The Spokesman-Review's Northwest Passages community forums series -- which helps to offset the costs of several reporter and editor positions at the newspaper -- by using the easy options below. Gifts processed in this system are not tax deductible, but are predominately used to help meet the local financial requirements needed to receive national matching-grant funds.
Subscribe now to get breaking news alerts in your email inbox
Get breaking news delivered to your inbox as it happens.
---