Sports
Miami's grounded star
Mon., Jan. 17, 2005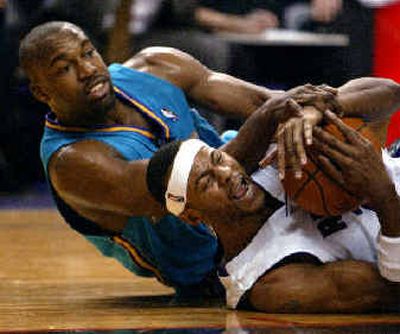 It has been a full two decades since South Florida has seen anything this young, this electric, this elite, this promising, this hypnotizing, this breathtaking and this particular combination of best-in-the-world skilled and jaws-dent-the-floor awesome.
Dictionary-definition awesome, not teenage-slang awesome.
Back then, the awe-maker was named Dan Marino.
Now lifting off … an ahhhhh-inspiring Dwyane Wade.
South Florida's newest sports superstar has the face of a baby, the touch of an artist, the heart of an assassin and hands large enough to hold a world of possibilities.
That's one of his secrets, you know? Aside from sleeping too much and being cheap. Those hands. They can palm a medicine ball. The reason Wade can be just 6-4 and shoot nearly 50 percent in a giant's game is partially because that 39-inch vertical leap comes attached to the hands and feet and wingspan of someone 6-9.
That is not hyperbole. It has been documented by the Heat's doctors and scouts. Wade is 6-4 in frame, 6-9 in game. And he has all those things – heart, will, work ethic, ambition, competitive cruelty – that can't be tape-measured. That's why he has as many layups this season as the giant Shaq – more than 250. That's why no basketball player Wade's size has finished around the basket this efficiently since Michael Jordan.
That's blasphemy, of course, any kind of comparison to Jordan, especially one this premature. We've been crowning heirs to Air for a long time now, the lineage littered with the career carcasses of everyone from Penny Hardaway to Grant Hill. It's blatantly inaccurate in Wade's case, too, given that Jordan shot 50 percent with Bill Wennington at center while Wade can't do it without Shaq's court-opening help.
But Wade has, rather suddenly, in just his second season, launched himself into the best-since-Jordan discussion. He is too humble and careful and smart to put himself in rarified Air, but he shows you a glimpse of what he wants from this sport and himself when he says, "I can have Jordan-like symptoms." Or, as Heat President Pat Riley says, "Life is not measured by the number of breaths that you take but by the moments that take your breath away. That's what Dwyane is about."
Question: True or false — Dwyane Wade is one of the five best basketball players in the world?
Answer: "True," says Atlanta Hawks forward Al Harrington.
It is odd to say about someone who can jump up and take a dollar off the top of the backboard and leave four quarters in exchange, but Wade is so very grounded. He has the perfect combination of humility and arrogance. Humble in the way he talks about himself and respectfully treats others. Arrogant in the way you need to be to know you are going to beat Kobe Bryant off the dribble.
Have you ever heard Wade say the wrong thing? Even once? He defers to Shaquille O'Neal at every turn because of how badly he wants to win and because, well, it was just two seasons ago he was wearing a Shaq jersey around Marquette's campus. He understands and respects that Shaq has already made him The Next Kobe. So he doesn't concern himself with superficial vanities or the odor of ego.
What does he worry about? Whether work and travel is allowing him to be around his son enough. And whether he is being too soft on little Zaire when he is around because he doesn't want his boy to always associate his father's presence with discipline.
Grounded? Wade stared at his first NBA check all day in disbelief that another one was coming in two weeks, remembering too well what it was like to stretch that $220 college allowance for Zaire's diapers. By his own admission, he's still cheap because of that, even though very soon the Heat likely will be giving him a contract worth the NBA's maximum.
Wade says the coolest thing about being an NBA player is the fame that allows him to produce smiles so easily, just by shaking hands or touching fans in more figurative ways. Prod him on whether he was better than LeBron James and Carmelo Anthony as a rookie last season, and he starts with the stammering.
True or false, Dwyane: They weren't better than you last year, just more famous.
"I don't think they were better than me winning-wise," he finally offers.
True or false, Dwyane?
"That's my answer," he says.
True or false, Dwyane?
"Tralse," he says.
On the court
Raptors 102, Hornets 99: At Toronto, Chris Bosh had 24 points, 10 rebounds and two key blocks down the stretch, leading Toronto over New Orleans. New Orleans point guard Baron Davis left late in the third quarter with a bruised right ankle and did not return. Lee Nailon scored a career-high 32 points for the Hornets but missed two shots and had two blocked by Bosh in the final three minutes. Morris Peterson had 25 points and 10 rebounds for the Raptors.
Off the court
Washington Wizards guard Larry Hughes will miss four to six weeks with a broken right thumb. … Toronto guard Rafer Alston was fined $7,500 by the NBA for verbally abusing a game official Friday night in Philadelphia.
Local journalism is essential.
Give directly to The Spokesman-Review's Northwest Passages community forums series -- which helps to offset the costs of several reporter and editor positions at the newspaper -- by using the easy options below. Gifts processed in this system are not tax deductible, but are predominately used to help meet the local financial requirements needed to receive national matching-grant funds.
Subscribe to the sports newsletter
Get the day's top sports headlines and breaking news delivered to your inbox by subscribing here.
---