News > Idaho
Repaired heart a lifesaver
Sat., Jan. 22, 2005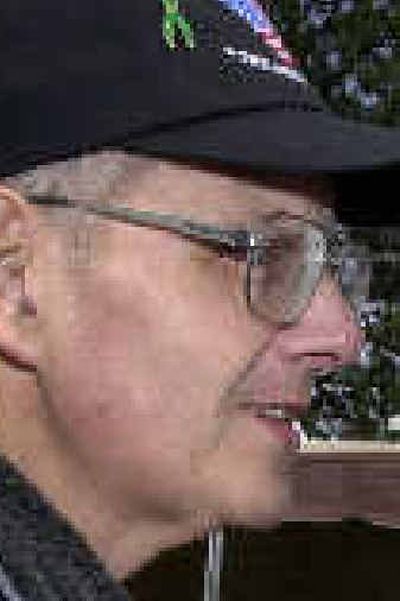 The heart that doctors transplanted into Coeur d'Alene's Larry Powell in Spokane on Nov. 28 needed minor repairs first, so people ahead of Powell on the waiting list for hearts passed it up.
Jan Powell, Larry Powell's wife, is grateful they did. Her husband left Sacred Heart Medical Center last week for rehabilitation at St. Luke's Extended Care Center. He's standing on his own now and unencumbered by the heart pump that followed him around in a pull cart for a record 1,136 days.
"We took it pretty hard when they said he'd have to stay on a machine the rest of his life," Jan Powell said Friday. "When they asked Larry if he was interested in a heart they'd repair and use for transplants, we said yes.
"We were experimenting with the machine so we might as well experiment with that, too."
Transplants of repaired hearts have improved life options for people like Powell, who waited for a heart for nearly five years. Pam Hester, who manages the transplant program for Drs. Timothy Icenogle and David Sandler, said the University of California, Los Angeles, started the practice about five years ago.
Hearts are transplanted into about 2,100 people a year nationwide, but 3,500 people are on the waiting list. The list is divided by urgency and general health. People on life support not likely to live long without a transplant head the list. People like Powell, whose overall health was compromised by 26 years of fighting forest fires for the U.S. Forest Service, remain low on the list and stand little chance of moving into a position to receive a heart.
For years, hearts that needed minor adjustments were discarded until doctors at UCLA began tightening valves or bypassing potentially clogged arteries and offering the repaired organs to patients lower on the waiting list.
The concept spread to Sacred Heart in the last year or two.
"We try to maximize organ donors," Hester said. "Minor repairs are a tremendous benefit. We're using an organ that would otherwise be discarded."
A virus deadened the entire left side of Powell's heart five years ago. Powell, 58, spent a career fighting forest fires. He worked mostly out of the Fernan Ranger Station in Coeur d'Alene. Doctors replaced the function of the left side of his heart with a pump in fall 2001 and placed him on the waiting list for a transplant.
Two years later, Powell and his wife were told that his condition had deteriorated and doctors were removing him from the transplant list, Jan Powell said. But later that year, doctors proposed a repaired heart for Powell. A heart became available Nov. 28 last year. At that time, Powell held the world record for the most consecutive days on a heart pump. Since then, a man in Mexico surpassed Powell's world record, said David Sato, a mechanical heart engineer who works with Icenogle. Powell still holds the American record.
Powell's kidneys stopped working for a short time after the surgery, and he needed dialysis. But doctors had expected the problem, and it didn't last long, Jan Powell said. His body seems to be accepting the new heart and his prognosis is good, she said.
Overwhelming medical bills are Powell's biggest problem now. Transplants of repaired hearts cost no less than transplants of hearts that need no extra attention. Health insurance covered many but not all of Powell's costs. Jan Powell said she works 60 to 75 hours every week at two jobs to pay the bills that accumulated during her husband's poor health.
"We want to keep ahead of the creditors and stay out of bankruptcy. That's our goal," she said. "I have my million dollar man now."
And the bills will keep coming. Jan Powell said she hasn't seen the charges yet for the transplant surgery. Larry Powell will need to take anti-rejection medication the rest of his life.
Local journalism is essential.
Give directly to The Spokesman-Review's Northwest Passages community forums series -- which helps to offset the costs of several reporter and editor positions at the newspaper -- by using the easy options below. Gifts processed in this system are not tax deductible, but are predominately used to help meet the local financial requirements needed to receive national matching-grant funds.
Subscribe now to get breaking news alerts in your email inbox
Get breaking news delivered to your inbox as it happens.
---