News > Business
That '70s showroom
Sun., Jan. 23, 2005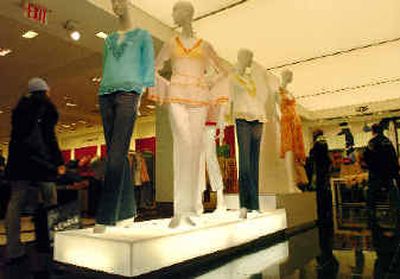 NEW YORK — Back in the 1970s, Kyle Tibbs Jones embraced the hot trends — ponchos, crocheted tops and peasant skirts. Now, as the nation's retailers keep reviving those styles, Jones enjoys reliving her youth.
"I love that we're wearing those foxy cool clothes again because it totally takes me back. Many of the things in my closet right now look like pieces I owned in the ninth grade," said the 42-year-old from Georgia's St. Simons Island. "Is it crazy nuts that when I wear that sweater with the crocheted flowers on it that I automatically hear Steve Miller band play in my head?"
Retailers' love affair with the '70s seems to be gaining momentum although the trend has been around for a few years. And they're not limiting themselves to fashion; they're confidently expanding into toys, home furnishings, and home appliances.
After doing well with retro toys such as Shrinky Dinks and Slinkies, though in more high-tech forms, the toy industry is coming out with more in 2005. For example, consumers will be seeing Hasbro Inc.'s hipper version of the classic Trolls — those creatures with the wild colorful hair that were hot in the 1960s and '70s — in stores in August. Trolls already had one big comeback, enjoying great success in the early 1990s.
Meanwhile, home decor stores are doing well with sectional couches, fondue sets and lava lamps.
Sunbeam Products Inc., which offered '70s-inspired home appliances last year, is making a bigger push this year with all-metallic toasters and irons, according to Mary Ann Knaus, senior vice president of strategic development and global marketing.
Marketers are targeting both baby boomers, who grew up with the merchandise, and younger generations that are embracing these styles for the first time. Jones, who is also buying a sectional couch, is passing along some of that nostalgia to her children. She gave her 8-year-old child Classic Football, a hand-held electronic football game that Mattel Inc. revived from the '70s.
"We continue to mine the '70s because there was more fashion than any other decade in the century," said David Wolfe, creative director at the Doneger Group, a buying office in New York. "This could last longer than the first time."
With no new must-haves in toys and fashions, the retail industry has used styles from the past to get consumers inspired to shop. Saks Fifth Avenue reported that it sold 30,000 ponchos last fall.
There will be plenty more this spring. Merchants will be marketing anything crocheted, caftans, prairie skirts — tiered skirts featured beading or embroidery — peasant-style dresses and bejeweled flat sandals.
Not everyone loves the '70s look, though.
"As a fashion forecaster, we are tired of it. It's time for a change. We raided every thrift store we can," said Michael Fink, senior fashion director at Saks Fifth Avenue. He said designers seem to moving away from the '70s trend, based on the sleek designs he has previewed in designers' fall 2005 collections.
Some consumers say they've also had enough of the decade.
"I just don't know why they keep coming back with the things that I hated in the '70s. Can't designers think of something new and unique?" asked Naomi Burton Isaacs, a 56-year-old Manhattan resident. "Why can't people come up with original ideas? They are not aiming at people" my age.
She added, "When you get older, you want age-appropriate clothes. You don't want to look in the past."
But marketers note that there are plenty of new takes on '70s styles that should prevent them from becoming passe anytime soon.
Jeanne Sottile, vice president of contemporary sportswear at Bloomingdale's, which is showcasing beaded peasant skirts in its windows at its Manhattan flagship store, noted that the revived styles are closer fitting than they were in the '70s, when baggy was in.
"It doesn't look stale. It looks fresh," said Sottile, adding that the styles are attracting boomers as well as those in their 20s and 30s.
In toys, consumers are seeing classics remade for the high-tech savvy child.
DIC Entertainment, which purchased the exclusive rights for all entertainment and licensing to the classic Troll property, was careful to come up with a two-tiered marketing strategy: aiming the classic Trolls, which will be sold in specialty stores in 2006, at boomers; and creating a new version called Trollz for girls, ages 8 to 12.
These new Trollz — which are 5 1/2 inches high, about twice the size as the originals — look like teens, and are dressed in hip fashions.
This year, DIC will be launching a Web community for Trollz, where girls can create their own dolls, pick the hair, decorate their room as well as invite other friends' Trollz to play with through a password-protected site.
"It's not enough to take something and dust it off. These kids are very sophisticated," said Nancy Fowler, senior vice president of worldwide consumer products at DIC Entertainment.
Local journalism is essential.
Give directly to The Spokesman-Review's Northwest Passages community forums series -- which helps to offset the costs of several reporter and editor positions at the newspaper -- by using the easy options below. Gifts processed in this system are not tax deductible, but are predominately used to help meet the local financial requirements needed to receive national matching-grant funds.
Subscribe now to get breaking news alerts in your email inbox
Get breaking news delivered to your inbox as it happens.
---