Sports
Safin conquers Federer
Fri., Jan. 28, 2005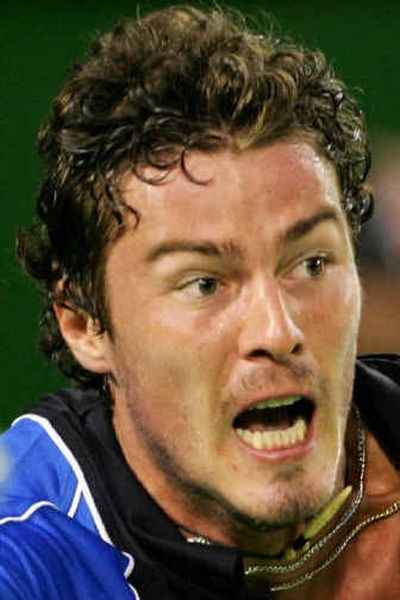 MELBOURNE, Australia — Roger Federer was on his hands and knees, his racket gone after he tumbled chasing a shot.
All he could do was watch as Marat Safin tapped a gentle forehand into an open court to cap a thrilling 4 1/2 -hour Australian Open semifinal and end the top-ranked Federer's 26-match winning streak.
Safin fended off a match point in the fourth set, then needed seven match points of his own before pulling off a 5-7, 6-4, 5-7, 7-6 (6), 9-7 upset of defending champion Federer and advancing to his third Australian Open final in four years.
"It's always going to hurt, no matter how great the match was," Federer said. "But at least you can leave the place feeling good about yourself, because I gave it all I had."
The fourth-seeded Safin next meets No. 2 Andy Roddick or No. 3 Lleyton Hewitt, whose semifinal is early today.
The women's final is set, featuring past champions Serena Williams and Lindsay Davenport. Williams' 2-6, 7-5, 8-6 victory over Maria Sharapova in a rematch of last year's Wimbledon final produced about as much drama as Federer-Safin.
Williams saved three match points, then leaped three times after ending it with a winner.
Top-ranked Davenport, who contemplated retiring in 2004, came back to beat No. 19 Nathalie Dechy of France 2-6, 7-6 (5), 6-4. Davenport also reached the doubles final, where she and her playing partner, Corina Morariu, lost to Svetlana Kuznetsova and Alicia Molik 6-3, 6-4.
Morariu, who had chemotherapy treatment for leukemia and two shoulder operations since teaming with Davenport to reach the 2001 final, had her serve broken twice in the first set and once in the second.
With Federer trailing 8-7 in the fifth set and serving on match point, he lunged to retrieve a deep shot wide to his forehand side. He swatted back a desperation shot, but slipped and dropped his racket. Safin converted the putaway.
"It's like a brain fight. … It's more mental than physical against Roger," said Safin, who smashed his racket to the court two points before he lost the third set and later belted a ball into the stands.
The mercurial Russian, whose lone major title came at the 2000 U.S. Open, showed that it is possible to frustrate Federer. The Swiss star won four of the previous six Slams, including three in 2004 — the first man since Mats Wilander in 1988 to win a trio in a single season.
While Safin kept his temper in check just enough, Federer had some rare moments of anger, yelling at himself, screaming after missing an attempted shot between his legs on his only match point and later spiking his racket.
Federer needed treatment on his shoulder and elbow at the end of the fourth set and during the fifth. He said he had a tender nerve running down his arm to his fingers, but it was more a nuisance than a problem.
Down a set — and later, down match points — in the Australian Open semifinals Thursday, Williams might have questioned herself. Instead, she came all the way back, even though Sharapova served for the match at 5-4 in each of the last two sets.
"I was battling Maria and myself," Williams said, noting her 53 unforced errors.
Local journalism is essential.
Give directly to The Spokesman-Review's Northwest Passages community forums series -- which helps to offset the costs of several reporter and editor positions at the newspaper -- by using the easy options below. Gifts processed in this system are not tax deductible, but are predominately used to help meet the local financial requirements needed to receive national matching-grant funds.
Subscribe to the sports newsletter
Get the day's top sports headlines and breaking news delivered to your inbox by subscribing here.
---