News > Idaho
17-year-old doesn't shy away from new challenges
Sat., Jan. 29, 2005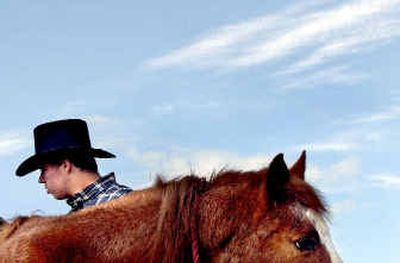 With every throw and every chance at bat, Michael Dale steps up to the plate ready to take on his next challenge.
He dreams of becoming a professional baseball player, or going to college to become a pitcher. If not, he'd be glad to be a coach.
"I've been practicing hard and I've got the arm like my dad," said Michael.
When Michael was a toddler, his parents noticed slower development than normal. Now 17, his speech is scattered, he struggles with reading and writing and, while he has a strong long-term memory, his short-term memory is sketchy at times.
His dad, Gerald, said Michael watches his brothers and sisters participate in other activities and he knows he doesn't have the coordination to get in the game.
The Dales have taken Michael to several specialists, but none have diagnosed his disability.
"Between the dyslexia and motor skills, he kind of feels left out," Gerald said.
Michael started with Special Olympics five years ago with baseball and softball. He plays shortstop and said he likes helping his teammates make it to home plate rather than stealing a base for himself.
Gerald said being on the ball field gives Michael a chance to participate with other kids at the same level.
Michael can run, hit and throw among the best on the team rather than spending much of the game on the bench. When it's not game time, he's up for practice in any weather, Gerald said.
"He's a good-sized guy and he throws hard," Gerald said. "He wears my arm out."
Michael also played for a parks and recreation baseball team and tried his hand at basketball with Special Olympics.
His newest challenge is riding horses; he took his first horseback ride in July.
Michael started riding through the Special Olympics equestrian team and practiced with others on the team. He didn't compete, but did well and a family friend offered him a horse to ride at home.
"Either he wants to be playing ball or riding his horse," said his mother, Tamra.
Tamra said Michael's choice of sports has been the same for years. She remembers him at 2 years old with a baseball in hand and cowboy boots on his feet. Whenever she sees him ride at their home in Post Falls, she can tell he's happy.
Michael said he tries to ride every day to sharpen his skills.
"I watch rodeo and I said that's what I want to do," he said. "If someone calls me and says 'My cattle's out, can you get it?,' I can say 'Sure.' "
Now, he's in 4-H with his horse, Rusty, and hopes to compete this year. He's familiar with 4-H, having competed for a year with goats and three years with his dog, Trigger. Last year they took second place in the North Idaho Fair and Rodeo.
Gerald is confident Michael will do well in 4-H this year.
Gerald said his son and the horse are buddies, and Rusty sometimes follows Michael around. When Michael is riding, he can give a kick and the horse will take off running. He said Michael handles Rusty like a pro and he's steady with the reins after shouting giddyup.
"I like speed," Michael said. "I like to go fast."
Tamra said Michael is the most active of her five kids. Over the years, she's been able to see his talents grow by staying involved in Special Olympics and taking on new challenges.
"I'm grateful for the programs because I've seen what it's done for my son," she said. "And for finding the talent that we would have never known he had."
Local journalism is essential.
Give directly to The Spokesman-Review's Northwest Passages community forums series -- which helps to offset the costs of several reporter and editor positions at the newspaper -- by using the easy options below. Gifts processed in this system are not tax deductible, but are predominately used to help meet the local financial requirements needed to receive national matching-grant funds.
Subscribe now to get breaking news alerts in your email inbox
Get breaking news delivered to your inbox as it happens.
---