Sports
Lewis, Allen sparkle
Sat., Jan. 29, 2005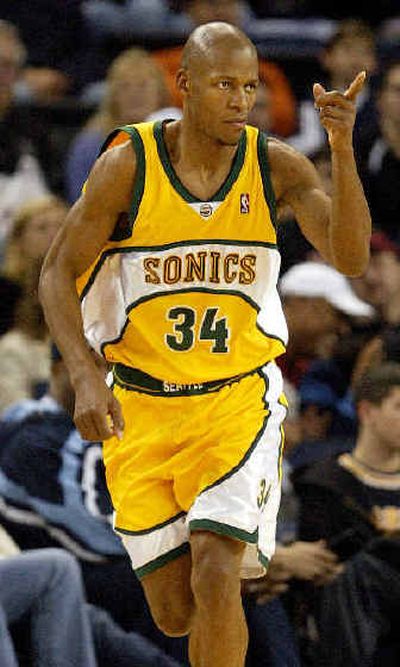 OAKLAND, Calif. – With their Seattle teammates breathing heavily and shooting poorly, Rashard Lewis and Ray Allen decided they would take care of this win themselves.
Lewis scored 24 points and hit a key jumper with 46 seconds left, and Allen had 26 points in the SuperSonics' 88-85 victory over the Golden State Warriors on Friday night.
The Sonics' top two scorers did most of the work in another uneven effort by a club struggling for consistency after its tremendous start. With their third win in four games, the Sonics improved to 8-6 in January after losing just six games in the first two months of the season.
This one could have been trouble as well, because Golden State had several chances to tie or go ahead in the final minutes. But Allen and Lewis both hit big shots down the stretch to help Seattle snap a three-game losing streak at Golden State.
"In the last couple of possessions, we did what it took to win," said Allen, who hit four 3-pointers. "Knowing how to win those games down the stretch is going to help us in the end. This team is slowly starting to round itself out and go to the next level."
Luke Ridnour scored 14 points and Reggie Evans had a career-high 17 rebounds for the Sonics, who got the best and the worst from their quick-strike offense.
Seattle scored the first 16 points of the game, but lost the lead in the third quarter in a flurry of bad passes and missed shots. The Sonics' vaunted bench players struggled, going 4 for 23 with 18 points, and Seattle managed just 11 assists.
"We just have to remember what got us to this point: scrapping, defense, unselfish play and ball movement," Sonics coach Nate McMillan said. "We have to get back to that point. I know we have some guys that are tired, and bodies are aching, but the (All-Star) break is a few weeks away, and we have to finish this thing out strong."
Calbert Cheaney scored 14 of his season-high 21 points in the second quarter for the Warriors, who lost for the 13th time in 14 games despite several chances to steal one from the first-place Sonics.
Jason Richardson scored 20 points but couldn't get open for a 3-pointer on the Warriors' final possession. Derek Fisher badly missed the potential tying shot to complete his 2-of-11 shooting performance.
"We can live with this kind of effort," Golden State coach Mike Montgomery said. "I thought everybody was really working hard to make plays, and that's a huge step. We played with heart … (but) it just came down to a couple of shots."
After Allen hit a 3-pointer with 4:20 left to give Seattle a 10-point lead, Golden State made an 11-2 run. Cheaney missed a potential tying free throw before Lewis hit his baseline jumper with 46 seconds to go.
The Sonics might think they slumped in January until they compare themselves to the Warriors, who lost nine straight after New Year's Day. Still, Montgomery's cautious optimism was echoed by his players two days after Richardson ripped his teammates for a lack of passion in a blowout loss to New Jersey.
"A loss is a loss, don't get me wrong, but I thought we showed a lot of competitive spirit," Cheaney said. "We showed a lot of character coming back and getting right back at it. Seattle scores a lot of points in bunches, but at the same time, they also miss a lot of shots in bunches."
The Warriors appeared headed for another flop in the opening minutes, missing their first 12 shots while Seattle went up 16-0 with 5:42 left in the first quarter.
But Golden State made seven of its next eight shots, and Cheaney's second-quarter burst kept them in it.
Local journalism is essential.
Give directly to The Spokesman-Review's Northwest Passages community forums series -- which helps to offset the costs of several reporter and editor positions at the newspaper -- by using the easy options below. Gifts processed in this system are not tax deductible, but are predominately used to help meet the local financial requirements needed to receive national matching-grant funds.
Subscribe to the sports newsletter
Get the day's top sports headlines and breaking news delivered to your inbox by subscribing here.
---