News > Spokane
Man gets 22 years for murder
Sat., Jan. 29, 2005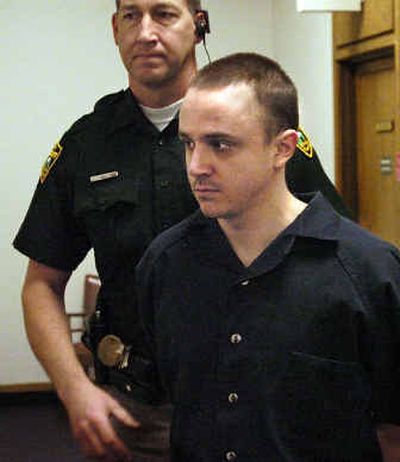 A man who fatally stabbed his ex-girl-friend's stepmother as a "gift" to the younger woman was sentenced Friday to 22 years in prison.
In setting the punishment, which is at the bottom of the standard sentencing range, Spokane County Superior Court Judge Neal Rielly said he took into consideration 21-year-old Nathan W.L. Giorgianni's long and "well-documented" history of mental illness.
Testimony and court documents indicated Giorgianni was upset when his first girlfriend, Jennifer Evans, broke up with him in late 2003.
He told police he wanted to kill someone he felt had hurt Evans. Giorgianni considered killing a former boyfriend of hers, but settled on her stepmother, Yukiko Evans.
He bought an 8-inch kitchen knife on Dec. 13, 2003, and went to Yukiko Evans' home in the 200 block of West Montgomery. When Evans let him in, he tried unsuccessfully to strangle her. Then he stabbed her in the eyes, mouth, throat and abdomen, and left the knife sticking in her chest.
Evans' carotid artery was severed, and she bled to death. Giorgianni called police from Evans' home and waited for officers to arrest him. He also called Jennifer Evans and his mother, Betty Dietrich.
"Nathan is my beloved child," Dietrich said Friday, adding that he had been mentally ill since age 13. "I will carry the horrible burden of this all my life."
Giorgianni's father, Mario Giorgianni, joined Dietrich in apologizing to the Evans family.
"Nathan has been a loyal and loving son," the elder Giorgianni said. "We never imagined that anything like this could ever have happened."
Giorgianni said his son had no history of previous violence, and no criminal record.
Jennifer Evans wasn't present for the sentencing, but sent a letter echoing the pleas of Giorgianni's parents, that he receive mental health treatment in prison.
"Nathan Giorgianni is a very sick young man," Evans said, calling him a "kind, gentle soul."
Her father, Craig Evans, was less sympathetic. He called for a maximum sentence, noting he and his wife would have celebrated their 25th anniversary this year.
Defense and prosecution attorneys declined to reveal the nature of Giorgianni's mental illness. Testimony indicated however that his condition included obsessive-compulsive disorder and that other children had ridiculed him for wiping door knobs.
Defense attorney Phillip "Dutch" Wetzel called Giorgianni's illness "severe," but four doctors – two from Eastern State Hospital and two hired by the defense – agreed Giorgianni was not legally insane.
Including a mandatory two years for use of a deadly weapon, Giorgianni could have gotten up to 28 2/3 years.
Rielly had already ruled that Giorgianni had to be sentenced within the standard range because of a U.S. Supreme Court decision last summer that struck down part of Washington's sentencing law.
The Supreme Court said defendants are constitutionally entitled to have a jury determine all facts used to justify above-standard sentences. Washington law allowed judges to make those findings in the past.
Deputy Prosecutor Steve Kinn tried to amend the first-degree murder charge against Giorgianni to include aggravating factors, but Rielly ruled that wasn't permissible. After that, Giorgianni pleaded guilty as charged.
On Friday, Kinn called for a maximum standard sentence to protect the public from "unpredictable" behavior. Kinn said Giorgianni couldn't be counted on to take his anti-psychotic medicine.
Speaking last, Giorgianni apologized to his victim's family for "a horrible, unspeakable crime." He promised to take his medicine and seek treatment and job training.
"I will spend the rest of my life on fire for God," he said. "Your honor, please show mercy on me, and I will be the best man that I can be."
Local journalism is essential.
Give directly to The Spokesman-Review's Northwest Passages community forums series -- which helps to offset the costs of several reporter and editor positions at the newspaper -- by using the easy options below. Gifts processed in this system are not tax deductible, but are predominately used to help meet the local financial requirements needed to receive national matching-grant funds.
Subscribe now to get breaking news alerts in your email inbox
Get breaking news delivered to your inbox as it happens.
---