News > Business
Selling was never this easy
Sat., Jan. 29, 2005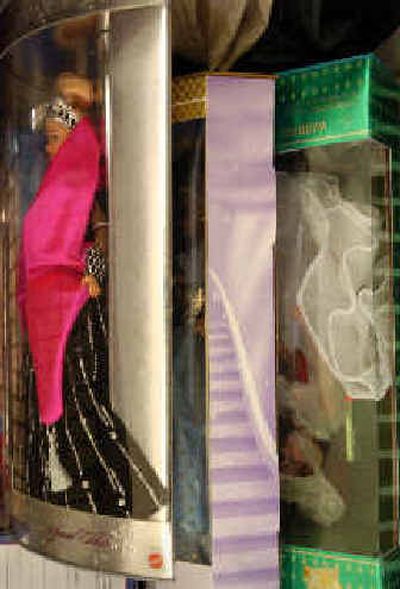 Mike Freshman bid farewell to his 1977 Chevy pickup and pocketed $800 after a new consignment store facilitated a successful eBay trade.
Sell Thru Me, in Spokane Valley, takes the hassle out of trading on the big online auction site by handling details for sellers.
Husband and wife store owners Jason and Andrea Hand photograph, describe, ship and collect money for castoffs ranging from clothing to knick knacks.
When one man's junk successfully becomes another man's treasure, customers walk way with 60 percent of the purchase price.
Jason Hand opened the store in November, after the couple moved from Detroit, Mich. to be near family. The first month he traded $600 in goods. This month, trades will have reached $10,000 to $15,000, Hand said.
Sell Thru Me is listed on an eBay directory as a trading assistant. Although such stores are new to Spokane, there are roughly 40,000 similar businesses nationwide, said eBay spokesman Hani Durzy.
"We've seen them kind of crop up over the last couple years. Actually, we think it's great," Durzy said.
Trading assistants and trading posts operate independent of eBay, which is based in San Jose, Calif. They provide middleman services and expand the online trading marketplace, he said.
Assistants qualify for the directory based on positive feedback from at least 50 customers. To become a trading post, stores must have 500 responses with a 98 percent approval rating and trade over $25,000 in goods a month.
Sell Thru Me currently has completed more than 1,100 trades with a 99.5 positive feedback.
Hand says the devil is in the product description, which can make or break traders if items arrive in lesser condition than promised.
He sells everything from purses to pop machines and even 16th-century books. Bids are currently over $201 for the "Synopsis of the Tragedies of Euripides," with two days of bidding to go.
When items sell, Hand charges a 40 percent commission, out of which he pays eBay's fees. His minimum fee is $10, regardless of whether the item sells. Goods selling for $80 or more are most profitable for trader and customers, however, Hand accepts less valuable fare to build a client base.
The trader doesn't shy away from telling customers if nondescript toys and gadgets cost more to sell than they're worth.
"Honestly, as a company we want to make money and most importantly we want to make you money," Hand said.
Some customers are more into de-junking than counting their pennies. "That's the customer that just tosses everything on the counter and says, 'I just want to get rid of it,'" Hand said.
Although he prefers collectibles to yard-sale leftovers, occasionally something odd inexplicably registers with bidders.
In addition to the pickup, Sell Thru Me has handled other trades for Freshman, including a record player that was purchased for $3 at a yard sale.
Freshman was both happy and amazed when it sold for $60. Said the Spokane Valley resident, "It's amazing what people will pay for stuff."
Local journalism is essential.
Give directly to The Spokesman-Review's Northwest Passages community forums series -- which helps to offset the costs of several reporter and editor positions at the newspaper -- by using the easy options below. Gifts processed in this system are not tax deductible, but are predominately used to help meet the local financial requirements needed to receive national matching-grant funds.
Subscribe now to get breaking news alerts in your email inbox
Get breaking news delivered to your inbox as it happens.
---