News > Idaho
Tense late-night drama ends quietly, safely
Sun., July 3, 2005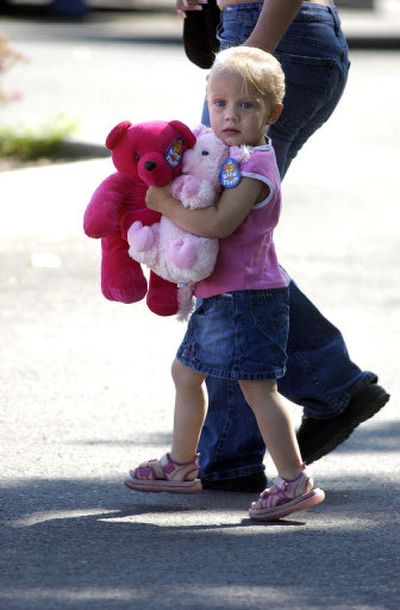 Customers and workers at the Denny's Restaurant in Coeur d'Alene where Shasta Groene was rescued early Saturday say they tried to stay calm during the moments before police arrived, despite being filled with a sense of panic that the little girl might again vanish. Although it's not clear whether it was employees of Denny's or a group of Coeur d'Alene young adults who first spotted Shasta, both groups give similar accounts of how she was identified and rescued at the all-night restaurant just north of Interstate 90.
Two calls were made to the emergency police line; they came within a four-minute time span. First was the call from the manager at Denny's at 1:51 a.m. Then came the call from Nick Chapman, a 21-year-old Coeur d'Alene resident. The messages were the same: There's a little girl here who looks exactly like Shasta.
Chapman and Chris Donlan, 18, believe they were the first to recognize Shasta. The two were at Denny's with their girlfriends, 20-year-old Raela Rhodes and Tessa Syth, 17. The four all live in Coeur d'Alene and spend many late nights sipping coffee at the restaurant, which is one of the few in the city that stays open 24 hours a day.
Smoking is no longer allowed inside Denny's, so the two men stepped outside sometime after 1:30 a.m. Saturday for a cigarette. Moments later, a red Jeep pulled up bearing Missouri license plates. A middle-aged man and a little girl got out.
Donlan and Chapman have seen their share of unruly drunks and unusual night dwellers at the restaurant, but something seemed awfully strange about the man and the girl who walked from the Jeep to the restaurant under the harsh parking lot lights. Chapman and Donlan stood to the side smoking as the pair passed. Something didn't seem right, both men recalled Saturday afternoon, nearly 12 hours later.
Chapman briefly locked eyes with the little girl, and "I knew right then it was her."
Donlan and Chapman were shocked. Like nearly everyone else in Coeur d'Alene, they were well aware of the grisly discovery made May 16 when Shasta's mother and older brother, and her mother's boyfriend were found beaten to death in their Wolf Lodge Bay home. It hardly seemed possible that Shasta could still be alive after six weeks, Chapman said.
Hours before going to Denny's, Chapman was driving from Sandpoint to Coeur d'Alene. For some reason, he couldn't take his eyes off a highway billboard near Garwood bearing the faces of Shasta and her 9-year-old brother Dylan, who had both been missing since May 16. Also on Friday, Donlan recalled seeing a person walk past wearing a button with the children's faces.
Inside Denny's, Shasta and the man with her, 42-year-old Joseph Edward Duncan III, a registered sex offender, took a seat about six booths away from Donlan's and Chapman's girlfriends.
Donlan and Chapman stood outside wondering what to do next. Chapman wrote down the license plate number of the Jeep and vowed to himself, " 'Let's get this taken care of now.' Whatever means necessary, I would not let them leave this restaurant," Chapman recalled.
At 1:42 a.m. Donlan sent a text message to his girlfriend, Tessa Syth, who was still sitting inside. "'Teddybear, that little girl looks line (sic) that Shasta girl."
The women had been scanning a copy of Nickel's Worth, a local weekly classified advertising newspaper, and saw large photos of Dylan and Shasta on page 7. Most people in North Idaho have seen the images: Dylan with his open jacket and Shasta with her sleepy smile. There was no mistaking the identity of the girl in the booth.
Donlan and Chapman returned to the restaurant. The group didn't know what to do. They were terrified that if they stared too much, the man would leave. "We were trying to relax," Syth said.
"It was unreal," Rhodes said. "At that point, I wasn't paying attention to anyone or anything else around me."
Chapman said he handed a copy of Nickel's Worth to a waitress.
A poster with pictures of Dylan and Shasta had been posted at the restaurant earlier, but Denny's manager Rick Jost said the poster had been taken down Friday night or early Saturday morning. Jost suspects Duncan might have taken down the poster when he arrived. Employees of the Denny's have said they were already aware of Shasta's identity but were trying to play cool.
"We had the poster up (before he came). Everybody was really concerned about it. We get wanted posters all the time," Jost said.
Waitress Amber Deahn, 25, was working the 10 p.m. to 6 a.m. shift and spotted the man and the little girl sitting at the far end of the restaurant. Deahn said it was fairly quiet at the time.
"The restaurant was pretty much empty. It was the calm before the storm (after the rush when bars close). I knew how the kids looked from the poster."
Deahn said she tried to talk to Shasta and give her crayons and a promotional mask from the new movie "Madagascar," but the little girl was "closed off. Not a normal child. When you put crayons and masks in front of them, usually they light up. She just said 'thank you,' and looked at (Duncan)."
Deahn talked over the situation with her manager, and they tried to remain calm, to keep the man and Shasta there as long as possible while they contacted police. A Denny's manager called 9-1-1 at 1:51 a.m.. Chapman called 9-1-1 four minutes later. Chapman told the dispatch center that he had told management about Shasta earlier and was concerned because no police had come yet.
Chapman said three police cruisers arrived with their lights off about 10 minutes later. Deahn said that when the first police car pulled in, Duncan quickly left for the restrooms taking Shasta with him, pointing to the table saying he needed the bill.
"My manager and I have a lot of experience with customer service. We played everything as if it were normal. You learn to shut off your emotions," Deahn said.
When Duncan returned to the table, police officers came in and pulled him aside, while another officer spoke to Shasta and confirmed her identity. Chapman said that before Duncan was taken away, he leaned across the table and spoke to the girl.
"The look on his face, you could just tell he knew he was caught," Chapman said.
Deahn said she stayed with Shasta while police took Duncan outside. "I said, 'Hi Sweetie.' I looked at her and said, 'Honey, what's your name?'
"She said, 'Shasta Groene' and started crying. I picked up that child, held her and hugged her."
Deahn walked her out to the squad car, holding her hand, and sat with her in the back seat. "She broke down and cuddled up and said, 'I want my daddy. I want to go home.' "Physically, Deahn said, Shasta looked OK.
Coeur d'Alene Police Sgt. Christie Wood said three officers on the graveyard shift responded to the call. The officers arrived at the restaurant and identified Shasta fairly quickly. "He was basically compliant," Wood said of Duncan.
The FBI has offered a $100,000 reward for the return of Shasta and Dylan. Spokane Secret Witness is offering $7,500. Shasta's father is offering $10,000, plus a Harley Davidson.
FBI Special Agent in Charge Timothy Fuhrman said Saturday, "We will take a look at the facts and circumstances and see if there are individuals who will get a reward."
Donlan and Chapman were annoyed at any mention of a possible reward – "Every time I do an interview with TV stations the cameraman always points out the reward," Chapman said. "It really chaps my ass. We were just thinking about Shasta." Yet the two men also point out that they believe their actions are responsible for the girl's recovery.
"Until we mentioned something, no one ever did anything," Chapman said. "I'm not going to say we took care of the whole thing, but we watched them get out of the car, we followed them inside and we notified management."
Denny's employees, however, point out that they tried to act oblivious to Shasta to avoid provoking Duncan.
Chapman and his friends say all that matters is Shasta's safety and reunion with her father.
"This just makes me happy," Chapman said. "It's the most amazing, unreal, euphoric thing that could happen."
"It's like cramming all the holidays together into one," Donlan said.
Said Syth: "It's just unbelievable that something like this could happen. It's like a fairy tale."
Local journalism is essential.
Give directly to The Spokesman-Review's Northwest Passages community forums series -- which helps to offset the costs of several reporter and editor positions at the newspaper -- by using the easy options below. Gifts processed in this system are not tax deductible, but are predominately used to help meet the local financial requirements needed to receive national matching-grant funds.
Subscribe now to get breaking news alerts in your email inbox
Get breaking news delivered to your inbox as it happens.
---