Sports
Boyd tames The Fairways
Mon., July 11, 2005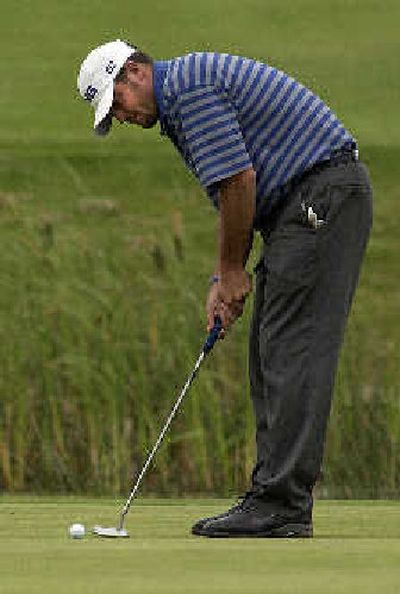 At 29 strokes under par, Jason Boyd knew he had gone a bit beyond his comfort zone.
He hadn't taken a golf score that low since, well …
"Since never," admitted the 26-year-old professional from Stockton, Calif.
But at The Fairways at West Terrace golf course on Sunday, Boyd tacked a final-round 65 onto his previous three-day total of 194 to blow past third-round tournament leader Conner Robbins and win the 46th annual Lilac Invitational with a record-low 72-hole score of 259.
Boyd's 29-under-par total gave him a comfortable four-stroke advantage over Conner, who finished as runner-up at 263, and bested the previous tournament record of 261, posted by Mark Worthington in 2002.
"Really?" Boyd said when he first learned of the record after posting his 7-under-par final round. "I didn't know. All I was trying to do was keep plugging away, because with this back nine out here, you never know."
Boyd, a regular on the AG Spanos Tour in his home state, teed off on the rain-softened 6,541-yard, par-72 layout at The Fairways trailing Robbins by a single stroke. But he took advantage of a couple of fortunate bounces on the back nine and a couple of short-putt misses by Robbins on the front to win going away.
"It was fun," Boyd said of his win, which netted him $5,000. "Most of the tournaments I've played in this year have been on really tough courses where even par or 2-under is a good score and you're making up ground.
"But you come here and shoot even par, and you're going to get lapped. Going this low was good for my confidence."
Boyd found himself two strokes out of the lead after Robbins birdied the opening hole on Sunday. But he reeled in the Bremerton, Wash., pro, who bogeyed the second and fourth holes by missing par putts inside of three feet, with a birdie on the 527-yard, par-5 fifth and made the turn with a two-stroke lead.
Boyd hit a couple of loose shots on the two back-nine par-5s, but survived both mistakes.
On No. 12, which plays over a large pond, he appeared to drive his ball into the water. But it barely made it onto the far bank and bounced into a favorable lie, from where Boyd was able to reach the green in two and three-putt for a par.
And on 14, a double-dogleg with a narrow diagonal fairway protected by a mound on the front and another pond in the rear, he rolled his drive off the back side of the mound into the rough and made birdie by getting up and down from the left of the green.
Meanwhile, Robbins was fighting a balky putter and some errant tee shots that had him playing out of the rough too many times.
"Jason played well, and I just didn't play well," said Robbins, a Spanos Tour regular, who closed with a final-round 70 and picked up $3,000 for his second-place finish. "But it was nice to get second. I needed the money. My sponsors dropped me and I put everything I had into these last couple of tournaments."
Robbins appeared to be out of contention when he stepped to the tee on the par-3 13th hole trailing Boyd by three strokes and proceeded to fan his 6-iron tee shot into the water to the right of the peninsula green.
But after watching his chip from the drop area check up well short of the hole, he drained a greasy, left-to-right putt from 22 feet away and saved a bogey. And the impact of his miscue off the tee was minimized even more when Boyd three-putted from the back left of the green and also made bogey.
It wasn't until the 15th hole, where he burned the right edge of the cup with a 12-foot birdie putt and failed to cut into Boyd's four-stroke lead, that Robbins accepted the fact he was playing for second place.
"Once I missed that birdie putt, I kind of figured it was over," Robbins said. "I didn't think Jason was going to make any mistakes on the way in."
Boyd said he plans to use the money he made for winning to pay back the friends who have sponsored him on the Spanos Tour. But his close friend and fellow competitor Josh Williams, who made the drive up from the Bay Area with Boyd and also played with him and Robbins in Sunday's final threesome, had a different suggestion.
"He ought to give most of it to me," Williams said, "just for putting up with him."
Troy Kelly, another Bremerton resident and a close friend of Robbins, shot a final-round 66 to tie for third at 267 with defending champion Chris Ming. Lilac regular Kevin Pomarleau, another mini-tour player from La Quinta, Calif., finished another shot back after scorching The Fairways with a final-round 62 that included a back-nine score of 6-under 28.
Steve Leupold shot 73 on Sunday but still won the Senior Pro Division – and a check for $1,200 – with his 72-hole total of 5-under-par 283.
Colin Floyd, a senior-to-be walk-on on Gonzaga University's men's basketball team, finished as low amateur with a score of 285. Floyd, who will play both basketball and golf for the Zags this year, also won Saturday's long-drive contest.
Local journalism is essential.
Give directly to The Spokesman-Review's Northwest Passages community forums series -- which helps to offset the costs of several reporter and editor positions at the newspaper -- by using the easy options below. Gifts processed in this system are not tax deductible, but are predominately used to help meet the local financial requirements needed to receive national matching-grant funds.
Subscribe to the sports newsletter
Get the day's top sports headlines and breaking news delivered to your inbox by subscribing here.
---