News > Pacific NW
Algae blooming on Lake Washington
Tue., July 12, 2005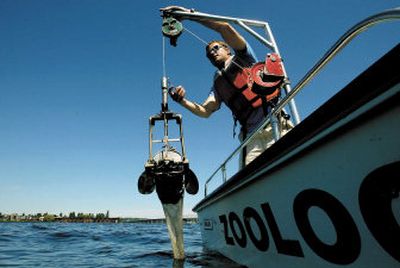 SEATTLE – Slimy, green algae has become a problem at Ginny Merdes' Lake Washington home.
Merdes, who lives on the lake's western shore, said algae grew thick enough to clog the water near her family's boat dock last year. It's not too bad yet this year, but she's concerned.
"Once it blooms, it's slimy," Merdes said.
"You could pick it up – big handfuls of it. This is not some nice little thing floating around. It's like a mat."
The surge in algae growth is part of what scientists believe to be the effects of global warming on Lake Washington.
The overall lake temperature has gone up an average of one degree in the past 40 years, significantly changing the lake's ecosystem.
"It's only 1 degree, but it has huge effects," said UW researcher Monika Winder, who has published research on the warming trend.
Average temperatures in the lake's 30-foot-deep top layer in the summer have climbed more than 2.5 degrees Fahrenheit to 58 degrees, compared with readings taken four decades ago.
Lake inhabitants, from fish to zooplankton, are feeling the effects.
Zooplankton – almost invisible organisms that are vital to the lake's food web – are declining, said Michael Brett, a UW environmental engineering professor. The tiny creatures eat algae and serve as food for juvenile salmon.
Rising temperatures have changed the dynamics of the water, making it difficult for zooplankton to find food. Every spring, the lake settles into layers of warm and cool zones as temperatures rise. But over the past 40 years, these warm and cool zones have begun emerging weeks earlier and lasting longer.
For a type of zooplankton called Daphnia – which eats algae and keeps the water blue – this means less food is available, Winder said. Algae is blooming earlier, which means that other zooplankton are eating the algae before the Daphnia can get to it.
The number of Daphnia in lake samples has declined more than 50 percent in the past 26 years.
And fish are disappearing as well.
Salmon that made it through the locks and the narrow Ship Canal early last summer showed up in spawning beds at twice the rates of fish that swam through later, when the water was warmer. Temperatures in the Ship Canal have been climbing since the 1970s. Temperatures used to reach 70 degrees or higher only 30 days in a year. By the 1990s, the number had tripled.
Last year, only 100,000 of the 400,000 sockeye salmon that were counted at the locks actually showed up in the watershed spawning beds.
In addition, blue-green algae growth has multiplied. Blue-green algae is a bacteria, some varieties of which can release toxins harmful to fish, pets and people. And it can make up more than half of the lake's algae in the late summer, Winder said.
Local journalism is essential.
Give directly to The Spokesman-Review's Northwest Passages community forums series -- which helps to offset the costs of several reporter and editor positions at the newspaper -- by using the easy options below. Gifts processed in this system are not tax deductible, but are predominately used to help meet the local financial requirements needed to receive national matching-grant funds.
Subscribe now to get breaking news alerts in your email inbox
Get breaking news delivered to your inbox as it happens.
---