News > Spokane
Truck crash closes I-90
Mon., July 25, 2005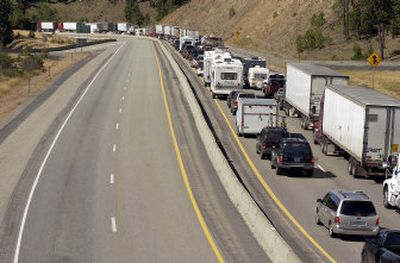 A semi hauling cattle flipped and caught fire Sunday afternoon just east of Coeur d'Alene, temporarily stranding hundreds of motorists on Interstate 90 for miles in both directions.
The accident occurred about 2:30, in the westbound lane of I-90 at milepost 17, near the exit to Mullan Trail Road.
Some cattle were released in the crash, adding to the mess that left a long line of cars stuck on the highway.
No serious injuries were reported.
Traffic was blocked for about four hours in the westbound lanes as officials worked to clear the scene and clean up spilled diesel.
The eastbound lanes were also closed as crews chased down the loose cattle, the Idaho State Police said. All lanes were reopened by 6:22 p.m. Sunday, the ISP said.
With Sunday's temperatures near 90 degrees, it was stifling on the asphalt freeway. Gordon and Jeanne Wagner of Spokane were returning from a trip to Blackfoot, Idaho, when they got snared in the traffic.
Eventually, their car overheated and they made it into a pullout overlooking Lake Coeur d'Alene, glittering in the sunlight.
"We were really happy when we got to this turnout because we got the lake breeze," said Jeanne Wagner.
Long-haul trucker Bob Warnock, of Green Bay, Wis., also made the best of the delay. Warnock had been on the road since Thursday, hauling frozen bratwursts, when he hit the line of cars going nowhere in the hot summer sun.
He decided it would be a good time to pull over and catch up on his sleep.
"I'm just gonna lay down and wait for the mess to clear up," Warnock said. "It's too hot to be sitting out here."
Local journalism is essential.
Give directly to The Spokesman-Review's Northwest Passages community forums series -- which helps to offset the costs of several reporter and editor positions at the newspaper -- by using the easy options below. Gifts processed in this system are not tax deductible, but are predominately used to help meet the local financial requirements needed to receive national matching-grant funds.
Subscribe to the Coronavirus newsletter
Get the day's latest Coronavirus news delivered to your inbox by subscribing to our newsletter.
---