Sports
M's do all the little things right
Tue., July 26, 2005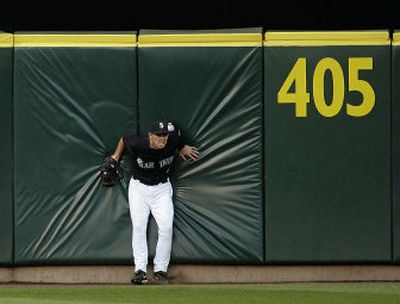 The Seattle Mariners limped home after a 1-5 trip and did in one night at Safeco Field what it had taken them a week to do on the road. They won a game.
"Amazing what happens when guys do their jobs, isn't it?" reliever Ron Villone said.
Amazing and effective. Behind big hits from the key hitters – Richie Sexson and Adrian Beltre – and great late work from the bullpen, the Mariners beat the Detroit Tigers 5-3 on Monday night.
It didn't move them far in the standings, and their winning streak is now one game in a row.
Still, last week it seemed that every time the Mariners needed to make a pitch, get a clutch hit or turn in a defensive play, they failed. Do that, and you win a game a week.
"If we'd wanted Superman, we'd have issued red capes in spring training," manager Mike Hargrove said. "We want players to do what they can – we don't ask them to do more than that."
Against a Tigers team that had just gotten back to .500 a day earlier, the Mariners got solid pitching, came from behind on back-to-back home runs from Sexson and Beltre and then had to come back all over again.
When a tiring Ryan Franklin threw his 114th pitch of the night in the seventh inning, he walked former teammate Carlos Guillen to put two men on base. Hargrove brought in veteran Jeff Nelson – who promptly walked the next two batters to force home the game-tying run.
A crowd of 27,102 seemed worried at that point, and why not? Games have been getting away from the Mariners since the All-Star break, and this one had that look.
J.J. Putz closed out the seventh inning, and he, Villone and Eddie Guardado allowed only an infield single over the last 2 1/3 innings – with a little help from their defense.
"Adrian made a couple of great plays at third base and Willie Bloomquist, he just busts his butt every night at a different position," Villone said.
"He made a great play at shortstop in the eighth inning."
The game was tied with the Mariners coming to bat in the seventh. Randy Winn singled with one out and Raul Ibanez was hit by a pitch. Sexson singled off the Tigers' third baseman, Brandon Inge, to load the bases.
Beltre singled to push home Winn, and Jeremy Reed grounded into a fielder's choice that plated Ibanez.
"Guys doing their jobs," Villone said.
For Beltre, the night was a victory for small adjustments.
"I felt good swinging last week, but I was undercutting the ball, hitting too many lazy flies," he said. "I made a little adjustment and it felt better."
Beltre hit his 12th home run and pushed home RBIs 48 and 49.
Sexson hit a two-run home run in the fourth inning, his 24th, and finished the night with 77 RBI.
It came down to Guardado, the closer who has rarely seen action of late. Last week, he had one save opportunity. Monday, he got his second in seven games and converted.
That's 23 saves in 24 save opportunities and a 1.59 earned run average on a staff that has a 4.38 ERA.
"Eddie's a warrior, and I don't use that term often," Hargrove said. "It's different in sports than in the real world, obviously, but Eddie gives you everything he's got every time he goes out there."
Local journalism is essential.
Give directly to The Spokesman-Review's Northwest Passages community forums series -- which helps to offset the costs of several reporter and editor positions at the newspaper -- by using the easy options below. Gifts processed in this system are not tax deductible, but are predominately used to help meet the local financial requirements needed to receive national matching-grant funds.
Subscribe to the sports newsletter
Get the day's top sports headlines and breaking news delivered to your inbox by subscribing here.
---