Sports
GSL golfers gear up for State
Wed., June 1, 2005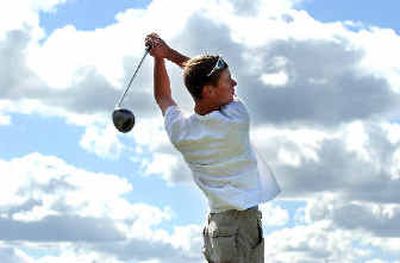 They've both been there before, playing at the State 4A golf tournament – though not up to their expectations.
This year, the top male and female players in the Greater Spokane League will be swinging in their backyard, both with a legitimate chance to make a run at the individual championship.
Mead's Amy Eneroth, a senior heading to Washington State, will be competing at MeadowWood in Liberty Lake and Nick Grigsby, a junior from Central Valley, will be at Indian Canyon today and tomorrow.
Eneroth, a senior, blew through the Greater Spokane League this season, averaging 70.25 strokes a round, almost five ahead of the second-place finisher. She won three of five GSL events, and shot a 146 to win the District 8 championship by six strokes.
"I've had the best year," said the three-time all-GSL selection and 2004 Washington Junior Golf Association player of the year. "Nothing has gone too wrong, and I've had a ton of fun with my team."
Mead finished second as a team in the GSL, and Eneroth will be joined at state by another Panther, freshman Lauren Howell, who grabbed the final individual berth to state.
Despite a great high school career, Eneroth is still missing one thing – a top-5 finish at the state level, or more importantly, a state championship.
Eneroth's highest finish was seventh as a sophomore followed by last year's 12th-place finish.
"I haven't really performed very well (at state)," Eneroth said. "I've been in bigger tournaments over the summer and it's kind of helped me kick the nerves a little bit, so I'm playing how I'm supposed to."
It's also helped that Eneroth has changed her thinking once she gets ahead in a tournament setting, playing to win instead of the dreaded playing not to lose.
"Usually you get really nervous," Eneroth said. "I'm kind of getting used to it. Now I'm thinking, 'Man, I've got another five holes, I can birdie all of them.' "
She doesn't really believe in omens – wise for a golfer who knows the occasional orneriness of the game – but she did just card her first hole-in-one 12 days ago, an 8-iron on the 149-yard 13th hole at Deer Park.
"It was a couple days after districts, the best shot of my life," Eneroth said. "But anything can happen in golf."
Eneroth has played MeadowWood a few times this month in preparation for the state tournament, but other than that, she doesn't change much before the final tournament of her high school career.
"It's just another tournament to have fun with," Eneroth said. "I really like the way I'm playing right now, I just have to keep it up for the next few days, not get too serious and just have fun."
Her major competition will be Bellarmine Prep senior Chris Yun, the defending champion, and two other district champions she'll be teeing off with at 8 a.m.
"I don't even worry about other people," Eneroth said. "It doesn't really make a difference to me. The only problem is playing at 8 in the morning. I haven't done that very often."
Grigsby came out of District 8 in second place, dropping a sudden-death playoff to Dustin Poe of Ferris on the second hole.
He won two GSL events, was all-GSL the last two years and played in the U.S. Junior Amateur championship after his freshman year. He was tops in league scoring this year, a quarter of a stroke ahead of Clarkston's Joel Dahmen. the 2003 State 3A champion.
Last year at the state tournament, he finished tied for 15th, shooting a 149, and his freshman year he finished near the bottom – experiences he learned a lot from.
"It's more of a patience thing," Grigsby said. "I think the first year I kind of played bad and just had nerves and it was a combination of a lot of things. Last year I just had three holes, where I had two doubles and a triple bogey, and if I par those holes, I finish something like second. I just think that every tournament is a learning experience."
Grigsby will have to fight a handful of Division I signees, including seniors heading to Washington, Vanderbilt, Washington State, Idaho and Santa Clara. Because of summer golf, he knows what he's up against. He'll tee off at 8:32 alongside the third- place finisher from District 1, Meadowdale's Jon Keane, and the fifth seed from District 3, Todd Beamer's Thomas Jun.
"I know a lot of kids from the coast," Grigsby said. "It helps to play with good players, I think. When one person starts playing well, it helps the overall morale of the group. Everybody starts playing better, it's definitely uplifting."
Like Eneroth, Grigsby thinks he's improving as he approaches the end of the high school season.
"I've really been working hard at my game," Grigsby said. "It's starting to come around. My swing's starting to come together and the putts start dropping and scores start going lower."
Grigsby got a head start on the state field at Indian Canyon, playing the second day of the District 4A tournament there. Grigsby shot a 66 to catch Poe, who was three shots ahead of him after the first day, only to lose in the playoff.
"Last year was the first time I'd been playing (Indian Canyon)," Grigsby said. "The second round of districts I felt more comfortable, not second-guessing myself as much off the tee. It's a big boost in confidence knowing that I lost but still was happy with how I played."
And unlike most high school juniors, he'll be ready to go at 8:30 this morning.
"I'm always up on the weekends playing. It's nothing new to me."
Local journalism is essential.
Give directly to The Spokesman-Review's Northwest Passages community forums series -- which helps to offset the costs of several reporter and editor positions at the newspaper -- by using the easy options below. Gifts processed in this system are not tax deductible, but are predominately used to help meet the local financial requirements needed to receive national matching-grant funds.
Subscribe to the sports newsletter
Get the day's top sports headlines and breaking news delivered to your inbox by subscribing here.
---