Sports
Nadal dusts off Puerta
Mon., June 6, 2005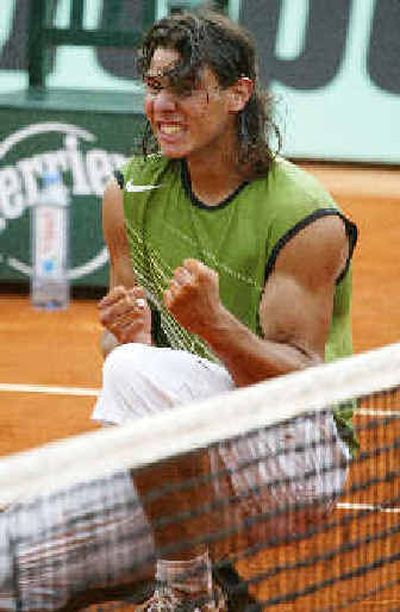 PARIS – Rafael Nadal, the new king of clay, put on a show worthy of the royalty watching him.
Red dust caked Nadal from his hair to his sneakers after his French Open triumph Sunday, the charismatic teen who plays with a pugnacious smirk holding both dirty hands up to a beaming King Juan Carlos of Spain in the box above.
On this day, the scruffy Spanish kid with tears in his eyes assumed his own moment of majesty.
"All the work you've been doing during all those years, the sacrifices, when you reach your goal, it's an extraordinary moment," Nadal said. "For the first time I cried after winning a match."
In a match as enthralling as it was brilliantly played, Nadal overcame an inspired performance by unseeded Argentine Mariano Puerta, 6-7 (6), 6-3, 6-1, 7-5, to become the youngest men's Grand Slam champion since Michael Chang won the French at 17 in 1989.
Two days after celebrating his 19th birthday by beating No. 1 Roger Federer in four sets, Nadal survived an even tougher test against the surprisingly tenacious Puerta, a fellow left-hander who had come back from a nine-month doping suspension and No. 440 ranking to reach his first major final.
Nadal and Puerta each were artful, feathering drop shots between thundering groundstrokes, lifting lobs that were unexpected. Their full-court scampers to scoop up balls seemingly out of reach drew gasps. Their reflex volleys brought fans to their feet.
Puerta, who played 3 1/2 -hour five-setters in his previous two matches, had to have his right thigh massaged and taped early in the first set, but that tweaked muscle never hampered him the rest of the match. Puerta said he could have played a fifth set if he had to.
The differences between them were few but significant in the 3-hour, 24-minute duel, especially when Puerta broke Nadal and served for the fourth set with a 5-4 lead.
Nadal faced three set points and saved them all: the first on a stunning crosscourt pass after Puerta caught up to a drop shot; the second after a rapid exchange at the net that left Puerta lunging futilely for a volley; the third, two points later, a forehand that Puerta charged and netted. Nadal finally won the game after one more incredible exchange of reflex volleys at the net.
This was high-speed tennis at its best.
"It was a beautiful match all the same," said Puerta. "When I went off the court, I knew I had lost against the best player in the world on clay. What could I do?"
Nadal is the first French men's winner to take the title in his debut since Mats Wilander in 1982. He won his sixth title of the year, moved up from No. 5 to No. 3 in the rankings, run his match winning streak to 24, all on clay, and surpassed Andre Agassi for the longest winning streak by a male teenager in the Open era.
Local journalism is essential.
Give directly to The Spokesman-Review's Northwest Passages community forums series -- which helps to offset the costs of several reporter and editor positions at the newspaper -- by using the easy options below. Gifts processed in this system are not tax deductible, but are predominately used to help meet the local financial requirements needed to receive national matching-grant funds.
Subscribe to the sports newsletter
Get the day's top sports headlines and breaking news delivered to your inbox by subscribing here.
---