News > Nation/World
Violation of gag order denied
Thu., June 9, 2005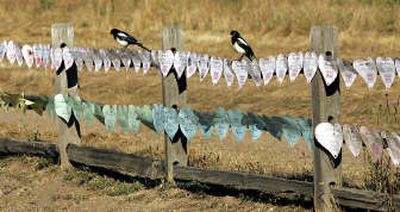 SANTA MARIA, Calif. – A controversy over the gag order in the Michael Jackson case arose Wednesday when Jackson's attorney issued a statement saying he had not authorized anyone to hold news conferences on the pop star's behalf.
The statement from attorney Thomas Mesereau Jr. came as jurors in Jackson's molestation trial wrapped up their third full day of deliberations. Mesereau's statement appeared aimed at assuring the court his defense team had not violated a gag order imposed by the trial judge.
Mesereau did not name anyone, but his statement came after Jackson's spokeswoman held a press conference in which she said her comments were approved by Mesereau.
Michael Jackson remained away from the courthouse Wednesday. But his longtime friend, the Rev. Jackson, came by to advocate on his behalf before news media. Jesse Jackson charged that the jury was being subjected to "psychological warfare" because of a television report in which a former Santa Barbara County sheriff showed a jail where the singer might go if convicted.
The 46-year-old Jackson is charged with molesting a 13-year-old boy in 2003, giving him wine, and conspiracy involving an effort to hold the boy and his family against their will to get them to rebut a damaging documentary about Jackson.
Local journalism is essential.
Give directly to The Spokesman-Review's Northwest Passages community forums series -- which helps to offset the costs of several reporter and editor positions at the newspaper -- by using the easy options below. Gifts processed in this system are not tax deductible, but are predominately used to help meet the local financial requirements needed to receive national matching-grant funds.
Subscribe now to get breaking news alerts in your email inbox
Get breaking news delivered to your inbox as it happens.
---