News > Features
Just in case
Mon., June 13, 2005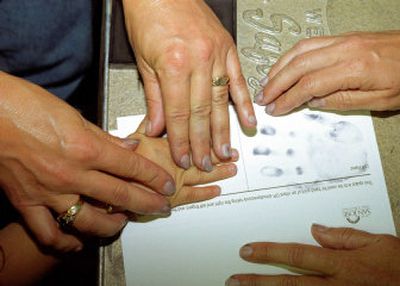 The parents waiting in line with their children really didn't want to be there.
Nor did they feel that what they were doing would ease their fears.
But getting their children fingerprinted and photographed was something most said they just had to do.
Marie Olesen, mother to 5-year-old Joshua, equated it to writing a will. "You don't want to think about these things but you have to."
With national news of child abductions and the recent disappearance of two Kootenai county children, more and more parents are finding themselves thinking about the unthinkable:
What if my child disappears?
"It's a scary thing for any parent," said Desiree Guyette, whose 7-year-old received an ID packet at Woodridge Elementary School recently.
The point of an ID is so parents can quickly give police important information and a current photo that can be dispatched as necessary to hasten the search of a missing child.
ID cards come in many forms. Online sites offer various products that allow you to make them at home while some commercial operators offer ID cards that fit inside a wallet. While most include basic information and a photo, some offer additional features such as a place for a parent's signature to authorize medical treatment or a DNA samples. Most cost less than $10.
Thousands of people each year get fingerprints and digital photos through the Operation Family ID project, run by the community-oriented policing programs in the Spokane city and county. These programs ask for a $1 donation to cover the cost of the floppy disk that contains the digital photo, but they won't turn anyone away for not paying.
Volunteers for the Operation Family ID program admit that it is scary to think about your child going missing, but they insist that being prepared can make a difference.
Trying to recall during that unthinkable crisis how much your child weighs, how tall he or she is and the location of birth marks, scars or other identifying features could be daunting.
During a crisis it's common to "go brain dead," said Marilyn Saunders, director of the Spokane COPS program.
Indeed, even in the calm of a school fair at Woodridge Elementary recently where dozens of children were getting ID packets made, several parents struggled to fill in vital information on the card that accompanies the photo and fingerprints. Many were making their best guesses about height and weight while others used a tape measure on the wall and a nearby scale.
Volunteers remind parents that it is important to update the photo and some of the information, such as height and weight, at least once a year.
Cliff Drake, a volunteer with Spokane COPS, who was doing fingerprints at Woodridge Elementary, said they have been making about 40 ID packets a month. In the first hour at Woodridge, they processed at least 30.
Three of them were for Darron Thompson's daughters, ages 4, 5 and 10.
"My wife and I have talked about it before. We got the flier and we were coming here anyway," Thompson said. "I've been kind of thinking about it more lately, hearing about all the things that are happening."
He said having the ID packet doesn't really give him peace of mind, "it's just another thing that will help if something happens."
But he's doing everything he can to make sure nothing does happen.
"I don't take my eyes off them, even in the back yard," he said. "I'm such a paranoid guy anyway. One time I walked in and one was hiding under the bed. I just about freaked."
Operation Family ID volunteers are quick to point out that the fingerprints, photos and information are solely for the parents to have in case of an emergency. It does not go into any database.
"The only record we keep is a head count," said Tom Lundstrom, chairman of the Operation Family ID program in Spokane County.
And, Lundstrom said, the ID packets aren't just for kids. They are for anyone who may wander off – Alzheimer's patients, for example.
"I've done them for 7-day-old babies up to about 80 years old," Lundstrom said.
Local journalism is essential.
Give directly to The Spokesman-Review's Northwest Passages community forums series -- which helps to offset the costs of several reporter and editor positions at the newspaper -- by using the easy options below. Gifts processed in this system are not tax deductible, but are predominately used to help meet the local financial requirements needed to receive national matching-grant funds.
Subscribe now to get breaking news alerts in your email inbox
Get breaking news delivered to your inbox as it happens.
---