News > Idaho
CHS commercial art students' work recognized
Sat., June 18, 2005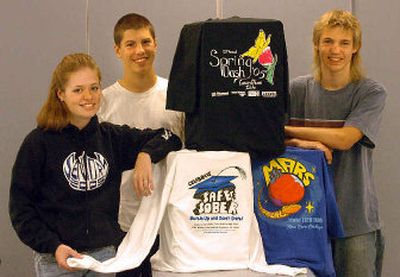 Teacher Terri Leonard tries to give the students in her commercial art class an exposure to the working world.
She encourages students to enter several art contests a year, submitting designs for T-shirt and poster competitions. Sometimes students compete against hundreds, if not thousands, of other hopeful artists. Often, the Coeur d'Alene High teens come out on top.
"If they work on a contest, they get used to working for a client," Leonard said.
Laura James, who graduated from Coeur d'Alene High last week, recently placed first in the region in a patriotic illustration contest sponsored by the Veterans of Foreign Wars.
James' acrylic painting depicts an Army soldier lifting a smiling baby girl into the air with the American flag in the background.
Her inspiration was an article in the newspaper about children who are born while a parent is serving overseas. She wanted to capture the moment when that parent first meets their new child.
Last year, Laura placed first in the state in the Veterans of Foreign Wars art contest and went on to compete nationally.
She also designed a T-shirt that was handed out to hundreds of Idaho high school seniors at drug- and alcohol-free graduation night parties.
Chad Carson's T-shirt design was selected from thousands of entries to be featured on shirts for the NASA Exploring Mars 2005 Idaho Space Emporium. About 3,000 students are expected to participate in the camp this summer and will wear T-shirts featuring Carson's artwork.
"I was trying to think from a child's point of view," the sophomore said.
Classmate Austin Brown was responsible for the design of the 2005 Spring Dash T-shirt. The shirt features a simple butterfly and tulip against a black background.
Austin said it was cool to have his design printed on T-shirts for the annual road race.
"I've seen it around town a few times," Austin said. "I'm like, I did that."
Lakeland employees retiring
Athol Elementary Principal Connie McGee called on the final day of school to let me know a longtime bus driver, Jewel Carlson, was retiring.
McGee remembered that Carlson had been my bus driver when I was a student at Athol Elementary and, years later, when I attended Lakeland High. My siblings and I spent many hours on the bus with Carlson during the long ride from Bayview to Rathdrum.
There was a rowdy bunch of students on the bus, as I recall, and Carlson would pull the bus to the side of the highway when it got to be too much for her to take. Sometimes we'd sit on the side of the road for what seemed like forever. She wouldn't start the bus up again until there was complete silence.
On that bus, there was no doubt that Carlson was in charge, even though the students needed a reminder every now and then. Though I remember Carlson as being stern, I also remember that she always greeted us with a smile when we boarded the bus and, on special occasions, she handed out treats.
After 31 years with the school district, Mrs. Carlson has retired.
What McGee failed to mention when she called to share the news was that she, too, was retiring. I didn't find out until later that day when a parent called.
The conversation began with the mom explaining that the principal of a little school in a little Idaho town called Athol was retiring. I know where Athol is, I told her, I went to school there myself. And I know McGee. She was my reading teacher when I was in the fifth grade.
McGee worked in Lakeland schools for 21 years.
Several other Lakeland school employees are retiring this year, including: Lois Berger, Spirit Lake Elementary library aide, 22 years of service; Sandy Bunch, fifth-grade teacher at Spirit Lake Elementary, 31 years; Bill Conroy, maintenance supervisor, 16 years; Mary Conroy, special education motor therapy aide, 17 years; Gary Fredekind, custodian at John Brown Elementary, 10 years; Terry Gorton, speech/English/drama teacher at Lakeland High, 26 years; Janet Langley, first-grade teacher at Spirit Lake Elementary, 15 years; Ann Paul, third-grade teacher at Betty Kiefer Elementary, 15 years; and Jim Shipman, custodian at Garwood Elementary, 7 years.
Local journalism is essential.
Give directly to The Spokesman-Review's Northwest Passages community forums series -- which helps to offset the costs of several reporter and editor positions at the newspaper -- by using the easy options below. Gifts processed in this system are not tax deductible, but are predominately used to help meet the local financial requirements needed to receive national matching-grant funds.
Subscribe now to get breaking news alerts in your email inbox
Get breaking news delivered to your inbox as it happens.
---