Sports
Everyman Gore overcomes odds
Sun., June 19, 2005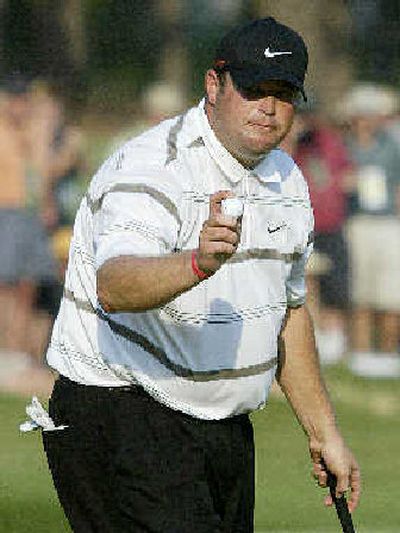 PINEHURST, N.C. — As Jason Gore waved his cap in appreciation toward an adoring gallery heading up the 18th fairway, a stocky guy in a pink shirt looked on, stunned.
"He's me," the young man said.
Gore, 31, the Nationwide Tour player from Van Nuys, Calif., is everyman. He is thick like a well-cut steak. He is John Daly before the fall.
He is the crowd favorite after persevering to shoot a 72 on Saturday and finish the third round of the U.S. Open at even-par 210.
Gore is tied with Olin Browne for second place, three shots behind leader Retief Goosen, with 18 holes to play at Pinehurst No.2.
At 3 p.m. local time today, Gore will tee off in the Open's final pairing with Goosen.
"It's easy to say how calm we're going to be," Gore said, "but we're all freaking out inside."
Gore is the perfect foil for the steely Goosen, who has won two U.S. Opens and seems more mannequin than man on the golf course.
Gore's popularity was obvious when he was putting on the 14th green and news of Goosen's double-bogey on 13 was posted on the leader board.
The crowd's murmur was almost approving, but Gore had his own problems. He was in the process of double-bogeying the 14th.
His ability to get up and down with one putt kept him in contention on 15, 16 and 17. On 18, he capped the day with a 15-foot birdie putt, pumping his meaty right fist as the ball dropped into the hole.
"He's got all the talent in the world," Tiger Woods said. "He's always been a very long hitter. It's just a matter of him fine-tuning his swing, and he did that, and he's done that. And it's holding up."
So is Gore, who got to the Open by way of a sectional qualifier in Atlanta. He is on the fringe of a world whose elite fly in private jets and often travel in limousines.
But Friday night, when he held a share of the U.S. Open lead, Gore was out pumping gas because his Buick courtesy car's tank was almost empty.
It hasn't been the easiest of trips.
He was at the drug store buying medicine because his eight-month-old son, Jaxon, has two infected ears. His computer and his wife Megan's clothes were stolen when he stopped in Asheville on the way to the Open.
If he gets the winner's purse of at least $1.17 million today, he will surpass the earnings of his entire eight-year pro career.
Local journalism is essential.
Give directly to The Spokesman-Review's Northwest Passages community forums series -- which helps to offset the costs of several reporter and editor positions at the newspaper -- by using the easy options below. Gifts processed in this system are not tax deductible, but are predominately used to help meet the local financial requirements needed to receive national matching-grant funds.
Subscribe to the sports newsletter
Get the day's top sports headlines and breaking news delivered to your inbox by subscribing here.
---