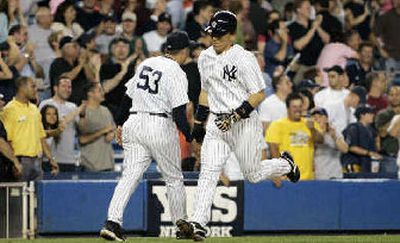 NEW YORK – In one stunning inning, the New York Yankees appeared to exorcise three months of frustration.
The Yankees broke loose for 13 runs in the eighth behind Bernie Williams and Gary Sheffield, overcoming an early eight-run deficit to beat the Tampa Bay Devil Rays 20-11 Tuesday night.
"If there's a turning point in the season, this should be it," said Williams, who didn't take batting practice because of his sore shoulders. "This is incredible, especially this late in the game. I've never seen anything like this."
With good reason: The 17-run turnaround matched the largest victory after trailing by eight runs in major league history. The Devil Rays led the Cleveland Indians 10-2 before losing 20-11 on May 5, 1999.
Williams put the Yankees ahead with a bases-loaded triple in the eighth, and Sheffield had a pair of three-run homers. Derek Jeter tied a career high with five hits and scored a career-best five runs.
The game mirrored New York's roller-coaster season – the Yankees have won seven of eight on this 13-game homestand after dropping nine of 12 on their last road trip.
Sheffield had seven RBIs and Williams drove in five runs for New York, which trailed 10-2 after four innings. Yankees starter Randy Johnson lasted just three innings in his shortest outing in nearly five years, allowing seven runs.
"I had a sense in the dugout, let's see who we are, let's see what we are," manager Joe Torre said.
Sheffield, Alex Rodriguez and Hideki Matsui hit consecutive homers in the eighth, and Jorge Posada also connected for the Yankees in the inning, who had a 13-run second inning during a 19-8 victory over Tampa Bay on April 18.
"Just shocking," Tampa Bay's Jorge Cantu said.
Sheffield's three-run shot and Williams' RBI double in the fifth off Hideo Nomo began the comeback. Jeter homered in the sixth to make it 10-7, and the Yankees sent 16 batters to the plate in the eighth, a half-inning that took 35 minutes.
"I've never been a part of something like that, probably never be a part of it again," Jeter said.
With New York trailing 11-7, Robinson Cano and Jeter led off with singles, and Cano scored on pinch-hitter Ruben Sierra's grounder. Sheffield and Rodriguez singled, chasing Franklin Nunez.
Matsui greeted Travis Harper (1-6) with an RBI double. Jason Giambi was intentionally walked – as the crowd chanted "Bernie Williams!" – and Williams hit the first pitch over center fielder Damon Hollins' head for a triple to make it 13-11.
Posada then homered, and after Cano flied out, Jeter and Sierra singled.
Sheffield followed with his second three-run shot of the game to make it 18-11. Rodriguez hit his 20th homer and Matsui hit a drive into the black batters' eye in straightaway center field.
"It's unbelievable," Devil Rays catcher Kevin Cash said. "They just fed off each other. It's unbelievable to hit that many balls right on the nose that many times. That's really tough to do."
Buddy Groom (1-0), the fifth of six Yankees pitchers, worked 1 1/3 scoreless innings for the win. He induced a double play with the bases loaded in the eighth to keep the score 11-7.
Tampa Bay knocked Yankees starter Randy Johnson out of the game after three innings, scoring seven earned runs off the left-hander.
---