Sports
Split decision for Williamses
Sun., June 26, 2005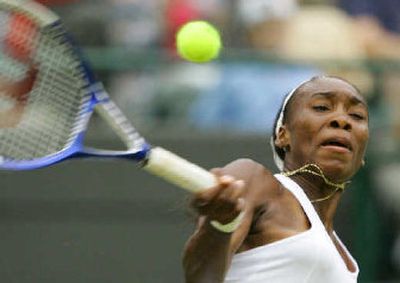 WIMBLEDON, England – Serena Williams steered a wild backhand wide to make a growing deficit more daunting, looked up at the slate sky, and screamed at herself, "What am I doing out here?!"
The short answer: playing poorly.
The more complete explanation: gasping for air after long points, favoring an injured left ankle, and making so many mistakes that the 85th-ranked player with a 9-23 career record at Grand Slams truly believed she could upset a seven-time major champion.
Falling a match shy of a showdown with her older sister, Williams lost 6-3, 7-6 (4) Saturday to Jill Craybas in the third round at Wimbledon, her earliest exit from a major since 1999.
"I've never been one to lose well," Williams said, tugging a pink visor low over her eyes and wiping away tears. "She didn't have to do anything exceptionally well today. She just pretty much had to show up."
Craybas hadn't managed to win more than three games in a set in two previous losses to Williams, but those were in 2003 and 2004, when each was a different player.
"Previously, when I played her, when I saw her across the court, I was probably thinking to myself, 'Oh, my God. I'm playing the No. 1 player in the world,' " said Craybas, a 30-year-old from Rhode Island who won the 1996 NCAA singles title as a senior at Florida.
"And today, as soon as I walked on the court, I just felt like we were equals."
Williams almost didn't make the trip to England, having played only one match in nearly 2 1/2 months because of an ankle she said was slightly broken. She won the Australian Open at the start of the season, but was just 8-4 since and without a title when Wimbledon began. There were signs she wasn't at her best, going three sets against each of her first two opponents – both ranked out of the top 100 – for the first time at any Slam.
"I think I was better off staying home," said Williams, who made 34 unforced errors and was broken each of the first five times she served.
Up in the stands behind a baseline sat her father Richard, snapping photos, and Venus, who beat No. 20 Daniela Hantuchova of Slovakia 7-5, 6-3 earlier in the day.
The Williams-Craybas match originally was scheduled for Centre Court but when others there went long, the players were sent out in the overcast evening to Court 2, known as the "Graveyard of Champions."
Now add to that list Williams, who won the tournament in 2002 and 2003 and lost in last year's final to Maria Sharapova.
The defending champion led six Russian women into the round of 16 by beating Katarina Srebotnik 6-2, 6-4. No. 1 Lindsay Davenport, No. 8 Nadia Petrova, No. 12 Mary Pierce, and No. 15 Kim Clijsters also advanced.
Among men, two-time defending champion Roger Federer and the man he beat in last year's final, Andy Roddick, moved into the fourth round. So did 2002 Wimbledon finalist David Nalbandian; 2004 French Open champion Juan Carlos Ferrero; No. 15 Guillermo Coria; and 19-year-old Richard Gasquet.
Local journalism is essential.
Give directly to The Spokesman-Review's Northwest Passages community forums series -- which helps to offset the costs of several reporter and editor positions at the newspaper -- by using the easy options below. Gifts processed in this system are not tax deductible, but are predominately used to help meet the local financial requirements needed to receive national matching-grant funds.
Subscribe to the sports newsletter
Get the day's top sports headlines and breaking news delivered to your inbox by subscribing here.
---