News > Idaho
Idaho billionaire Simplot prepares final resting place
Mon., June 27, 2005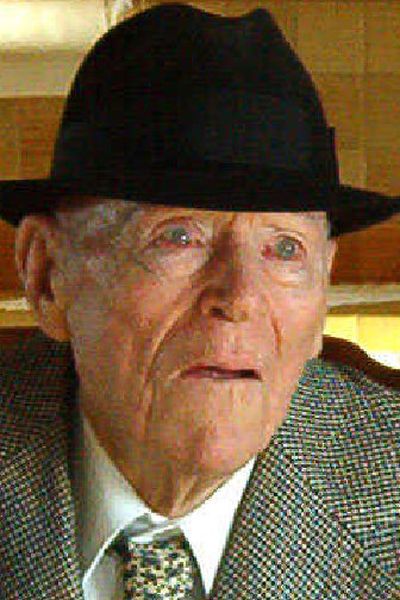 BOISE – A billionaire who built an agribusiness empire from the southern Idaho desert is directing what will surely be one of his last accomplishments: J.R. Simplot is constructing his mausoleum.
Simplot, who turns 97 in January, can still be seen scooting around the streets in a motorized cart in Boise, headquarters of his eponymous company that produces beef cattle, chemicals and half the french fries that are sold in McDonald's restaurants.
His final resting place in the Morris Hill Cemetery just west of downtown will also be prominently displayed, with four pillars and the name "Simplot" carved deeply in carnelian granite from a site near Mount Rushmore in South Dakota. The 10-foot high monument's roof shades a granite urn for the ashes of any Simplot family members who are cremated.
John Richard Simplot dropped out of school as a 14-year-old dyslexic to sell some pigs and went on to build one of the biggest privately held companies in the United States with $3 billion in annual sales, according to his official biographer, Louis Attebery. So it's no surprise that this self-made man and his wife, Esther, are overseeing the last, difficult details – even their own.
"I don't know of another monument in the cemetery that outclasses it," said Harley Fouts, whose Boise Valley Monument Co., built it. "There's some nice mausoleums, but they were put up quite a long time ago. As far as being an impressive monument goes, I think this one pretty much takes the prize."
When it's finally over, Simplot will be in good company: Other residents of the Morris Hill Cemetery include U.S. Sen. William Borah, "The Lion of Idaho" who tried unsuccessfully for the 1936 Republican presidential nomination; Joseph Albertson, founder of the Boise-based supermarket and drugstore chain; former Idaho Gov. Moses Alexander, the first Jewish governor in the United States; and Sen. Frank Church, whose legislation helped return the Panama Canal to Panamanian control.
Fouts, whose employees will have worked on the project for more than a year when it's complete, declined to say what the mausoleum cost.
Simplot, the 92nd-richest man in 2004 with $2.3 billion, according to Forbe's magazine, is not short on monuments.
His name adorns buildings and events all over Idaho because of his charitable donations – the lodge at Bogus Basin Mountain Resort above Boise, the stadium in Caldwell, an annual track meet in Pocatello – and he made headlines again last year when he donated his $2.8 million home above Idaho's capital city to the state to be used as the governor's mansion.
Simplot is also one of the initial investors in Micron Technology Corp., the Boise-based company that's become the world's second-biggest maker of computer memory chips.
At the cemetery, two aboveground crypts, one for each of the Simplots, flank the urn. The granite used to make the monument is two shades of brown. The monument will have a special sprinkler system that's designed to keep water from striking the granite and causing possible damage.
"It will be ready when either of them needs it," said Rose Buehler, an assistant to Simplot and his wife.
Local journalism is essential.
Give directly to The Spokesman-Review's Northwest Passages community forums series -- which helps to offset the costs of several reporter and editor positions at the newspaper -- by using the easy options below. Gifts processed in this system are not tax deductible, but are predominately used to help meet the local financial requirements needed to receive national matching-grant funds.
Subscribe now to get breaking news alerts in your email inbox
Get breaking news delivered to your inbox as it happens.
---