News > Idaho
Sizing up the poverty problem
Mon., June 27, 2005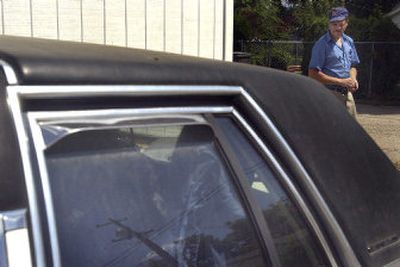 The bearded man at Unseen Ministries soup kitchen in Coeur d'Alene's First Presbyterian Church gym spooned three-bean casserole into his mouth and glowered at Scott Gittel.
"Yeah, I own a tent, but it's at a campground under someone else's name and they're in it," the man said, dipping his head enough to show the Playboy logo on his ball cap. "I don't know where I'll go. I guess I'll go into the woods."
Gittel filled in the circle on a questionnaire that identified the man as truly homeless and listened as soup kitchen director Mike Green asked the man to give Jesus a chance.
The man, who identified himself by initials only, was the only soup kitchen participant that day to qualify as homeless under the U.S. Department of Housing and Urban Development definition. HUD was behind Gittel's questionnaire. Gittel and a dozen other volunteers combed North Idaho's woods, soup kitchens and empty houses last week in an effort to count the homeless population at HUD's request.
"The goal is to end homelessness in the next 10 years, so we want to start getting more accurate measures of the real numbers of homeless," said Paul Carlson, HUD's regional homeless coordinator in Seattle. "We want to motivate community efforts by getting a snapshot of the homeless on a given day, letting officials and people know we spotted these people out there."
A national focus on ending homelessness began two years ago with federal, then state agencies pledging to work cooperatively, Carlson said. HUD, which budgets more than $1 billion a year for homeless services nationwide, required all states to get special computer programs that record and sort homeless statistics. The Idaho Housing and Finance Association took responsibility for Idaho's.
"It was one of the first ones up and running," Carlson said.
The computer program, the Homeless Management Information System, tracks people from program to program and helps aid agencies see which services are most needed and where grants are best spent. HUD also asked for body counts on a specific day. Carlson said he joined a count in Seattle in which volunteers counted people they saw sleeping in the street.
"We know they're gross undercounts, but we're still able to tell the public we're not guessing, this is a hard number we eyeballed on a given day," he said.
HUD is hoping that showing the public the actual numbers of homeless people on their streets will inspire communities to take action, Carlson said. Spokane is considering the development downtown of mixed-income housing that's now available in Seattle, he said. In such housing, homeless people live, with assistance, side-by-side with people of all incomes. The homeless stigma disappears and people down on their luck often are motivated to work hard to stay in their pleasant environment, Carlson said.
"They graduate from the need for subsidies to regular housing," he said. "They don't have to move and don't want to because they know their neighbors. It's working marvelously."
North Idaho's communities are more likely to incorporate houses for the homeless into neighborhoods, he said. But first the Panhandle needs to attach a number to the homeless so business owners, officials and the general population understand that homelessness is a problem that deserves communitywide attention.
Lynn Peterson, who directs St. Vincent de Paul's operations in North Idaho, leads the North Idaho counting operations and sends volunteers from Mullan to the Canadian border. For the on-the-street count, HUD wants people living in places not meant for living – cars, airports, abandoned buildings.
"We go to City Park, under bridges, campgrounds, rest areas, around the (Resort) golf course," she said.
For the first count in January, Peterson's volunteers counted in Kootenai and Shoshone counties. They found 20 single women, 68 single men and 38 families. The final results of last week's count won't be available for a few weeks, but Peterson said she expects the summer numbers to climb.
HUD's definition of homeless is too narrow for Peterson and Gittel. At St. Vincent's, Peterson helps plenty of people seeking shelter because they're sleeping on the couch of a friend or relative or borrowed a trailer with no heat or electricity. For HUD's survey, those people aren't considered homeless.
At Unseen Ministries soup kitchen, most of the 25 diners told Gittel they weren't homeless that night but were facing eviction for unpaid rent or were staying indefinitely with a friend. Gittel said a count of people living in extreme poverty makes more sense to him. One man smiled broadly when Gittel asked him if he was homeless.
"I'm living in style and I'm paying for it," he said. "That's why I'm here. It leaves me 5 cents at the end of the month."
Local journalism is essential.
Give directly to The Spokesman-Review's Northwest Passages community forums series -- which helps to offset the costs of several reporter and editor positions at the newspaper -- by using the easy options below. Gifts processed in this system are not tax deductible, but are predominately used to help meet the local financial requirements needed to receive national matching-grant funds.
Subscribe now to get breaking news alerts in your email inbox
Get breaking news delivered to your inbox as it happens.
---