News > Idaho
Not all Panhandle counties having growth spurt
Wed., June 29, 2005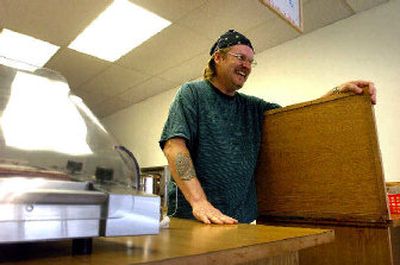 The latest census data paints a picture of two very different North Idahos. From 2000 to 2004, Kootenai and Bonner counties surged forward with double-digit population growth rates, while communities in neighboring Shoshone County posted some of Idaho's deepest declines.
Analysts say there's a huge asterisk behind the numbers – they may actually understate North Idaho's recent growth. The figures don't count the region's burgeoning number of part-time residents. And even though the data is the freshest available, much of the growth has happened since 2004.
The fastest growing community in North Idaho is Dover, a small town three miles west of Sandpoint that has expanded by 38 percent since 2000. The town is expected to nearly quadruple in size in coming years following the City Council's approval last month of a new housing development that includes more than 500 new homes.
Like most of North Idaho, Dover's draw has been its combination of small-town living and stunning scenery. City Councilwoman Peggy Burge said it's hard not to worry about losing these charms in the face of such fast growth.
"It's an excellent place, but the traffic is already terrible," Burge said.
Shoshone County ranked near the bottom for population growth rates in the state, but numbers completely ignore the considerable turnaround that has occurred over the past year, said Wallace resident Ron Roizen.
"In the last six months housing prices are going through the roof," Roizen said.
The report shows Wallace posting a nearly 8 percent drop in residents, but Roizen said newcomers are now grabbing up affordable properties in the Silver Valley area.
"We're becoming secondary beneficiaries of Coeur d'Alene's explosion," said Roizen, who moved to Wallace with his family in 1997 from Berkeley, Calif.
The second-fastest growing town in North Idaho is Post Falls, which has experienced double the growth rate of Coeur d'Alene and Sandpoint with only a fraction of the national media attention. The community is located between Coeur d'Alene and Spokane in terms of both geography and housing prices, said Dan Housam, who recently opened a hot dog shop at 205 E. Seltice Way.
Housam lives south of Spokane, but he decided to launch his business in Post Falls because he believes it has the greatest potential for long-term growth. He imports some of his wieners from New York City and has a growing clientele of longtime local residents, as well as newcomers on the prowl for big city hot dogs.
"I get a lot of transplants from New York, Chicago, even California," Housam said. "They like their dogs."
Another Post Falls businessman, John Vick, said he recently moved his shop from Hayden to tap the Spokane Valley and Liberty Lake markets. "We're getting all the people that don't want to go into Spokane with all the traffic and highway construction," said Vick, who operates River City Hobbies.
Analysts say they expect North Idaho's growth to remain strong. In the recent past, many of the newcomers have been wealthy retirees or vacation homeowners, but a rising number of younger families are now arriving, said Kathryn Tacke, regional economist with the Idaho Department of Commerce and Labor.
"Given we've had significant increases in job opportunities I would expect that we'll see faster growth in the working age population in the next two years," Tacke said.
Builders are having a hard time keeping up with the demand for new houses and real estate prices are climbing across the region, but many newcomers still consider the region a bargain, said Jonathon Coe, president of the Coeur d'Alene Area Chamber of Commerce.
"We're seeing prices go up, but relative to the rest of the country we're still reasonably affordable," said Coe, who believes the growth spurt will last at least two more years. "Anyone I talk to sees this continuing for the foreseeable future."
Local journalism is essential.
Give directly to The Spokesman-Review's Northwest Passages community forums series -- which helps to offset the costs of several reporter and editor positions at the newspaper -- by using the easy options below. Gifts processed in this system are not tax deductible, but are predominately used to help meet the local financial requirements needed to receive national matching-grant funds.
Subscribe now to get breaking news alerts in your email inbox
Get breaking news delivered to your inbox as it happens.
---