Sports
Lacy puts IBF title on line again
Sat., March 5, 2005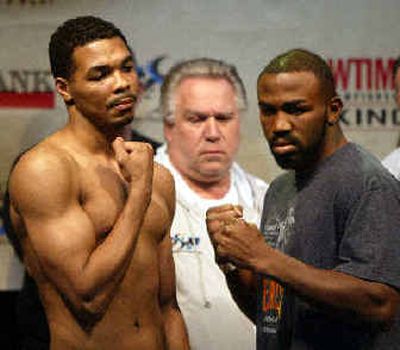 LAS VEGAS – Jeff Lacy missed out on an Olympic medal because he wasn't busy enough in the ring in Sydney. Now that he's a super middleweight champion, he wants to be busy all the time.
Lacy fights for the third time in six months – a pace almost unheard of today among boxing champions – when he defends his IBF 168-pound title tonight against Rubin Williams.
"I'm trying to stay busy because I'm a young pro fighter holding a title," Lacy said. "I'm fighting guys with more fights, and I want to lower the margin of experience level my opponents have over me."
Lacy will make the second defense of the title he won six months ago against Williams, though he won't be the star of the card at the Mandalay Bay hotel-casino. Topping the card being televised by Showtime (7:30 PST) is an intriguing lightweight title fight between WBC champion Jose Luis Castillo and Julio Diaz, who gave up the IBF version of the title for a shot at the veteran champion.
Diaz was a late substitute for Diego Corrales, who will take on the winner of today's fight in May.
"This is a big opportunity and a big risk," Diaz said. "I had to give up something that I worked very hard for. But I have always wanted a big fight, and this is definitely one."
Diaz (30-2, 22 knockouts) has long wanted to fight Castillo (51-6-1, 45 knockouts), but it wasn't until negotiations for a Castillo-Corrales fight fell through that he earned the chance.
Castillo, who is coming off a split decision win in December over Joel Casamayor, thought he was going to be fighting Corrales. But he said the switch in opponents would not bother him mentally.
"If I was fighting someone other than Julio Diaz, I might feel a letdown because I have been looking forward to defending against Chico Corrales for a long time," Castillo said. "I was supposed to fight Diaz before, too, and it also did not happen. Ever since, Diaz has been doing a lot of talking, saying I was scared of him. So now I am going to teach him a lesson."
Castillo first won his title in 2000 and has been in eight title fights, including two losses to Floyd Mayweather Jr. He won the title back last June against Juan Lazcano and is defending it for the second time.
Local journalism is essential.
Give directly to The Spokesman-Review's Northwest Passages community forums series -- which helps to offset the costs of several reporter and editor positions at the newspaper -- by using the easy options below. Gifts processed in this system are not tax deductible, but are predominately used to help meet the local financial requirements needed to receive national matching-grant funds.
Subscribe to the sports newsletter
Get the day's top sports headlines and breaking news delivered to your inbox by subscribing here.
---