Sports
Negative year spurs Nageotte
Thu., March 10, 2005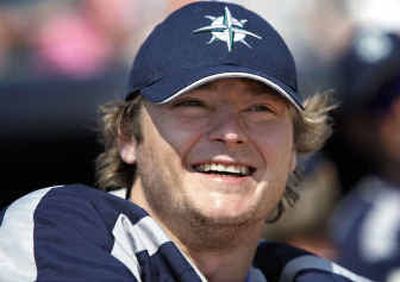 Clint Nageotte has one goal this spring: He needs to re-establish himself as a bright, young pitching prospect for the Seattle Mariners.
He knows that's not going to be easy – not after he foundered as a rookie for the Mariners in 2004, posting a 1-6 record and a 7.36 ERA in 12 games, five starts and 362/3 innings.
"It gives me a little bit more incentive to prove myself over again, because right now I feel like I'm on the bottom again trying to work my way back up," Nageotte said.
Nageotte's once-soaring star in the Seattle organization plummeted badly last season after he was recalled from Triple-A Tacoma on May 28. He made four starts for the Mariners and was sent back to Tacoma on July 1.
The Mariners recalled him from their Pacific Coast League farm club on Aug. 1 and he finished the season on the disabled list because of back spasms.
Nageotte, 24, could hardly believe it. He lost confidence in himself and began to question his future.
"Definitely last year was a disappointment," he said. "I think I might have pitched with a little bit of fear. I can't do that this year."
A fifth-round pick in the 1999 draft by the Mariners and a native of Parma, Ohio, who became a top high school basketball and baseball player in high school, the 6-foot-3, 225-pound Nageotte has been a starter his entire career in the Seattle organization.
He's a power pitcher whose fastball hit 95-96 mph in the minor leagues. In 2002, he led the Class A California League with 214 strikeouts for San Bernardino. In 2003, he led the Double-A Texas League with 157 strikeouts for San Antonio.
Naturally, he thought he would be successful when he got to the Mariners, too. He found out differently.
"You can throw 100 (mph), but if it's up in the strike zone, guys in the major leagues can hit it hard," Nageotte said.
"When I came up, I wanted to do the same thing I did in the minor leagues," he added. "I tried to go up there and maybe I tried to overthrow, maybe I tried to throw too hard."
The Mariners don't list him as a candidate to be in their rotation. There are eight candidates, including 18-year-old Felix Hernandez, ahead of him.
So that means he'll probably start the season back in Tacoma. He hopes to impress pitching coach Bryan Price and new manager Mike Hargrove this spring.
The team was disappointed Nageotte's back problems prevented him from pitching in winter ball and working on his changeup. The Mariners say he needs to develop a change up to go with his fastball and slider.
"He had some command issues with us," Price said. "I think his slider kind of came and went a little bit."
Price is candid about what Nageotte needs to do to pitch effectively in the majors.
"We spent a lot of time working on his change up," he said. "It wasn't a feature pitch for him, but it was a usable pitch and we'd like that to take a step to another level."
The Mariners also are thinking about moving Nageotte to the bullpen.
Royals 6, Mariners 0
Jose Lima pitched out of trouble in each of his three innings to lead the Kansas City Royals over the Seattle Mariners 6-0 in exhibition play at Surprise, Ariz.
Lima gave up five singles and walked three. Lima used double plays in the first and third to stop Seattle rallies.
The Mariners loaded the bases with one out in the second, but Lima struck out Jamal Strong and retired Ichiro Suzuki on a grounder to first baseman Mike Sweeney to end the inning.
The Royals sent eight men to the plate in a four-run first off Mariners rookie right-hander Felix Hernandez. Two of the runs were unearned after first baseman Richie Sexson made an error, the first of four Seattle miscues.
Local journalism is essential.
Give directly to The Spokesman-Review's Northwest Passages community forums series -- which helps to offset the costs of several reporter and editor positions at the newspaper -- by using the easy options below. Gifts processed in this system are not tax deductible, but are predominately used to help meet the local financial requirements needed to receive national matching-grant funds.
Subscribe to the sports newsletter
Get the day's top sports headlines and breaking news delivered to your inbox by subscribing here.
---