Sports
Staying power
Thu., March 10, 2005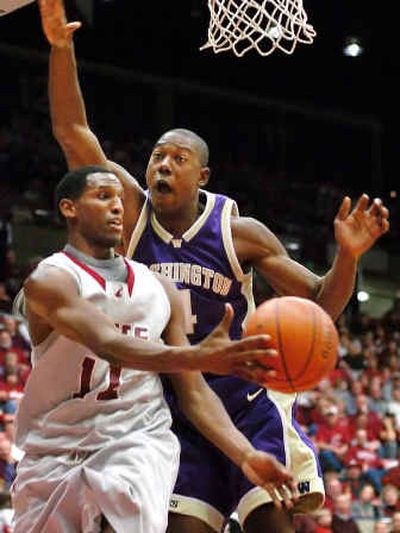 It sounds silly now, in the week that he became the first Cougar basketball player in seven years to be named All-Pac-10. It sounds crazy on the heels of a career-best, 29-point effort at California when he sank a 3-pointer with just seconds left to send the game to overtime.
But Thomas Kelati once thought that the best way to end his career at Washington State might have been to transfer away from it.
"When Coach (Paul) Graham left, you look at all your options. And at one time I might have considered even transferring before they made the decision as to who was going to come in," says Kelati, who today will suit up for what could be his last game as a Cougar. WSU plays Stanford in the Pac-10 tournament in Los Angeles.
"I remember when I was a freshman and how we used to get beat up, the frustration of all the losses. We were walking on campus almost with our head down just because you'd get blown out by 30 and it was very embarrassing. A frustrating time. The improvement, it really makes it worthwhile. Every win, every time we advance, it's just better and better."
Kelati is perhaps the most unlikely of the 10 players deemed the conference's best this year, having been all-conference as a Walla Walla High School cross country runner before he was anything more than a role player in basketball. And even though by his sophomore year at WSU he had become the conference's most accurate 3-point shooter, Kelati still had to wonder if Pullman was the right place for him.
Graham's dismissal after that season, though, opened the door for Dick Bennett to take over. And with Bennett came new life for Kelati at WSU.
"He's certainly adapted well in Dick's system," Cal coach Ben Braun says. "For him to get the amount of screens he gets and to be a factor, he really makes it tough on you defensively. He's got single-double options on almost every possession. If he catches the ball out on the perimeter, you can't relax because he's got tremendous range."
Kelati says he was sold on Bennett — and in turn, WSU — in their first 15-minute conversation before the coach officially took the job. Under the defensive-minded coach, Kelati has done more than become his team's top scorer at 14.1 points a game. He's also become a stopper on defense who has neutralized some of the Pac-10's top players.
Most notably, Kelati has frustrated fellow All-Pac-10 guard Salim Stoudamire of Arizona, taking the league's best outside shooter completely out of his game on two occasions. Stoudamire drilled 62 3-pointers in 18 conference games this year. Not one came against WSU, with Kelati on the floor playing man-to-man defense.
"He's done it. He's stopped some of the best players," Bennett says. "I think a lot of that is because of his size, his range. He's indefatigable.
"He's labored hard for four years in this program. He's never really changed his approach or his attitude. I think his improvement has been subtle. He's become better defensively; he's become more selective."
Kelati has also become, perhaps improbably, the leader in the Cougar locker room. It's a role that some would say doesn't come naturally to the shy kid from Walla Walla, but as a senior he's had to find a way to guide the youthful WSU squad.
On a team with six scholarship freshman, Kelati is the lone senior still playing who has been with the Cougars throughout. Two others, Jeff Varem and Chris Schlatter, transferred in midway through their collegiate careers, and Shami Gill's back injury ended his senior season prematurely.
"I like the responsibility," Kelati says. "I'm a one-on-one guy. I'm not good at being that guy that's going to get in your face or stuff like that. It has been difficult but it's something that really has made me better. I've learned a lot."
Even if he won't gather the group for a team meeting to chew them out, he has shown a willingness to take players aside and counsel them — even if they're a little surprised to see Kelati stepping away from his usual leadership by example.
"He's kind of quiet in a way but he shows it with the way he does things on the court," freshman guard Kyle Weaver says. "And he will get on you on the court. He'll say stuff to you, and it's kind of like, 'What?' … He leads his own way."
The senior speaks hopefully that this week might be special for the sixth-seeded Cougars, who would need to win the conference tournament to make the postseason. But he understands the improbability of it, and even has begun to grasp just how important his contribution could be in the rebuilding of WSU basketball down the road.
"I think they'll do fine," he says, laughing at the notion that his team will sorely miss his presence and his play next season. "We definitely want this program to get better. We've had a tremendous year, kind of up and down, but I think we're starting to get it to where we've got a foundation built and starting to get recognized by various people in the Pac-10. We've done what we can, and now it's hope for the best.
"I stayed and now I don't regret it at all."
Local journalism is essential.
Give directly to The Spokesman-Review's Northwest Passages community forums series -- which helps to offset the costs of several reporter and editor positions at the newspaper -- by using the easy options below. Gifts processed in this system are not tax deductible, but are predominately used to help meet the local financial requirements needed to receive national matching-grant funds.
Subscribe to the sports newsletter
Get the day's top sports headlines and breaking news delivered to your inbox by subscribing here.
---