News > Business
Bells, whistles and rings
Fri., March 11, 2005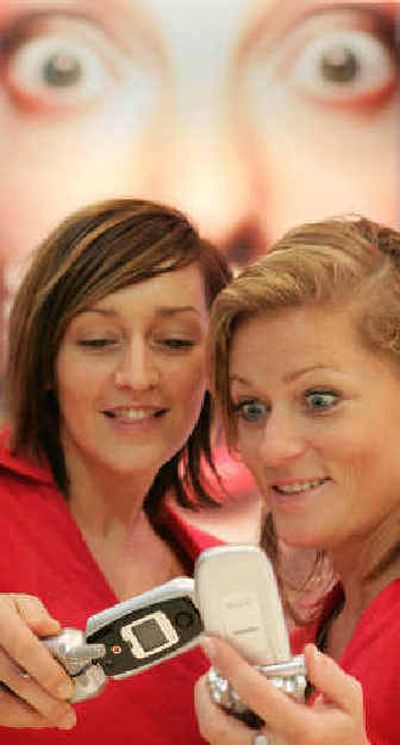 HANOVER, Germany — The mobile phone is a phone no more.
The new models unveiled at the CeBIT technology show this week let users do far more than just call a friend to catch up.
How about sending them a brief film clip of you standing by a fountain in Rome? Or perhaps a photo of the Eiffel Tower with an image quality so fine it could be blown up and placed in a 10x14-inch frame.
Between a new Samsung handset that sports a seven-megapixel camera — better resolution than most nonprofessional digital cameras — and a wide range of mobiles that download and stream music like an MP3 player, cell "phones" are now a lot more than just a keypad and three hours of talk time.
The slew of new features on phones is an astounding leap from just two years ago, when an integrated camera that took fuzzy images was an attention-getter. And since 2002, music and mobiles has meant much more than just ringtones.
All these new bells and whistles have become a big selling point, not just for the makers, but for the carriers who want to increase their revenue.
"This is the first time that (next-generation) phones are getting close to being sexy and attractive," said Leif-Olof Wallin, who follows mobile phone development and marketing for the Meta Group from Sweden.
Reaction at the Samsung booth was filled with actual "oohs" and "ahs."
Samsung Corp. didn't disclose a price on the new SCH-V770, whose camera delivers quality on par, or better, than most non-phone consumer cameras, which typically offer four to six megapixels in quality. The camera sports a flash and can be manually focused. The screen can display as many as 16 million colors, compared with 65,000 on most of today's upscale phones.
The handset is expected to go on sale by June, at least in Asia, but there's no launch date set for Europe and the United States.
Germany's Siemens AG hopes to transform text messages from boring print to a more interactive experience.
The company unveiled its new Animated Instant Voice Messages. The software converts the text in a wireless message into speech that can be synchronized to play with moving animated lips superimposed on one of the user's own photographs. European users will get the first chance to see it, likely later this year.
Sony Ericsson, a joint venture between Sweden's LM Ericsson and Sony Corp., is touting its new "Walkman" phone, breathing new life into a name associated with music on the go since the late 1970s — but radically advanced compared to the analog cassettes of the 1980s.
The company's W800i contains a two-megapixel camera and a digital music player that can hold up to 30 hours of songs. Because it's tri-band, it can be used in Europe, Asia and the Americas. It's expected to be released sometime after July.
Local journalism is essential.
Give directly to The Spokesman-Review's Northwest Passages community forums series -- which helps to offset the costs of several reporter and editor positions at the newspaper -- by using the easy options below. Gifts processed in this system are not tax deductible, but are predominately used to help meet the local financial requirements needed to receive national matching-grant funds.
Subscribe now to get breaking news alerts in your email inbox
Get breaking news delivered to your inbox as it happens.
---