News > Idaho
Drought worries farmers
Fri., March 11, 2005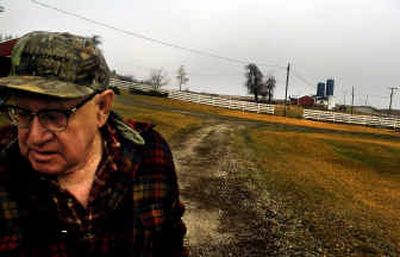 CHEWELAH, Wash. – The governor didn't have to tell Ken Hafer his farm might be short of water this year.
After 60 years of working the land, Hafer knew something wasn't right when he missed out on one of his favorite winter pastimes this winter: sledding. The thought of a snow-free winter in northern Washington is almost unimaginable, he said.
"I can't remember anything like this. I've always been an outdoor kid and I would've remembered a no-snow year," Hafer said, drinking coffee at his dining room table Thursday morning. Outside the window, fog was lifting from the Colville River Valley, revealing gray and brown fields.
Meanwhile, halfway across the state, Gov. Christine Gregoire was in Yakima, declaring a statewide drought emergency.
Gregoire ordered the National Guard to prepare for combating wildfires this summer and asked the Legislature to boost drought-related appropriations by an additional $8.2 million. Currently, the Department of Ecology has about $1.8 million to deal with drought-response activities.
"We need to start taking action now, and all of us need to be part of the solution," Gregoire said.
The northeastern corner of the state actually has the best water supply outlook in Washington. But that's not saying much. Snowpack in the region is about half what it should be and the Colville River is expected to have only 20 percent of its usual flow this summer.
"A drought could have some pretty devastating impacts," said David Kreft, the U.S. Agriculture Department's district conservationist for Ferry, Stevens and Pend Oreille counties.
Spring rains could still save the season, but long-range forecasts suggest farmers should prepare for the worst, Kreft said. Dryland farmers could feel the pinch first, but shallow rivers and unquenched aquifers are also bad news for irrigators. Pastures could be weak and with the drought all across the Northwest, abundant supplies of affordable hay are not likely. Fish and wildlife will also be hurt by the drought, Kreft said.
Even though northeast Washington might have some of the better snowpack readings, the region is probably one of the toughest places in the state to make a living by raising crops or livestock. It's far from the major markets, the growing season is short and soils tend to be either too rocky or too sandy, Kreft said.
"It's always been tough here," he said.
The USDA could decide to make available emergency low-interest loans or cost-sharing assistance to help farmers, Kreft said. Similar programs were offered in 2001, the last time Washington faced an official drought emergency.
"I don't think it was on the scale we were facing now. This could potentially be a lot worse," Kreft said.
The government could do worse than help the few remaining full-time farmers endure another drought, said Hafer, the lifelong Chewelah farmer. Not many people care about farms and droughts anymore, Hafer said. But maybe they should. Agriculture has been in decline for the better part of a generation in northeastern Washington, as it has in many other parts of the country. There are fewer farms and even fewer full-time farmers, said Hafer, who grows alfalfa on 320 acres with help from his daughter and her husband.
Hafer is nearly blind, but he still likes to get out on his land. And he insisted that he still calls the shots on how it's cared for. Lately, he's been experimenting with a fungal soil additive developed in Oregon. He dipped his vegetable garden seeds in the treatment last year and said he had the best garden ever, with tap roots on his tomato plants poking three feet deep.
Hafer plans to use the organic treatment on his alfalfa seeds this drought year. He's hoping it might help the roots travel even deeper to suck the subterranean moisture left by abundant fall rains.
"Never give up trying," he explained.
If the treatment works, Hafer guesses he might be able to cut two decent crops of hay this year, which is still half as much as a good year. If the rains come, he might even have a bumper crop. Talking about this caused Hafer to smile widely and gaze toward the bright light coming from the window.
Maybe the most fun he ever had, Hafer said, was the year he harvested 122 bushels of wheat per acre. That was more than twice the usual yield and came from a combination of luck, perfectly timed rains, gentle weather and a lot of fertilizer.
"We've had some good times here," he said.
Even with the drought declaration, springtime is the season to be hopeful for farmers, said Steve Fuhrman, a former legislator who ranches and owns the Flour Mill Farm and Hardware in Colville. Fuhrman couldn't even bring himself to mention the "D" word, and instead repeated an adage that comes often to mind these days.
"Rain in May, barn full of hay," he said, laughing. "When you dryland farm, every year you depend on May and June rains. It'd be terrible if it doesn't rain."
Alan Nelson, a part-time hay farmer and owner of Smokey Ridge Meats in Chewelah, said he's having a hard time trying to be optimistic about the season ahead.
"It's going to have to rain a lot of days and that's not going to happen," Nelson said.
The way it looks now, "We'll get one cutting," he said.
Local journalism is essential.
Give directly to The Spokesman-Review's Northwest Passages community forums series -- which helps to offset the costs of several reporter and editor positions at the newspaper -- by using the easy options below. Gifts processed in this system are not tax deductible, but are predominately used to help meet the local financial requirements needed to receive national matching-grant funds.
Subscribe now to get breaking news alerts in your email inbox
Get breaking news delivered to your inbox as it happens.
---