Sports
Mitchell torments Anteaters
Fri., March 11, 2005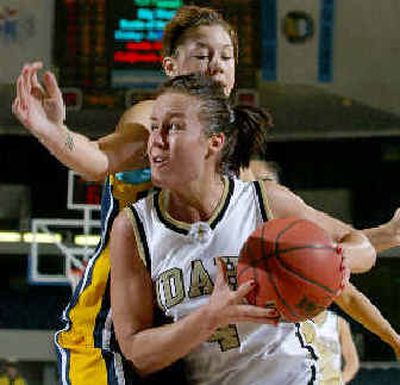 ANAHEIM, Calif. – It started with Idaho sophomore point guard Leilani Mitchell pilfering passes and stealing the ball from unsuspecting UC Irvine guards, triggering numerous easy transition baskets.
It ended with UC Irvine desperately trying to foul Mitchell as valuable seconds ticked away in the final minutes. Mitchell darted away from a 6-foot-3 post player and then outraced a guard, burning up a dozen seconds before the Anteaters could finally locate her.
Mitchell poured in 27 points, dished out seven assists and had seven steals in directing the Vandals to a 63-50 win Thursday in the Big West tournament at the Anaheim Convention Center. Those are the official statistics, but they might be underselling Mitchell's impact. The stat crew had numerous errors in the first half that were never fully corrected. Some courtside observers thought Mitchell approached double digits in steals and assists.
"She's a fantastic player," UC Irvine interim head coach Molly Tuter said. "She's only 5-5 and looking at her she's real deceptive. You wouldn't think the kid could play a lick, but holy cow."
The victory propelled No. 3-seeded Idaho (18-10) into a semifinal matchup with No. 2 Long Beach State (19-8) today at approximately 2:30 (radio 104.3-FM in Pullman/Moscow). The teams split during the regular season. No. 4 Cal State Northridge, a 62-58 winner in overtime over No. 5 UC Riverside, meets No. 1 UC Santa Barbara in the other semifinal at noon.
The Vandals became shorter earlier in the week when 6-1 starting post Jessica Summers tore a knee ligament Monday in Idaho's last practice before departing for Anaheim. Summers was standing on the baseline when she was hit by a falling teammate. Her absence pushed 5-8 Ticey Westbrooks into the starting lineup and left 5-11 forwards Emily Faurholt and Karly Felton to battle three Anteaters posts between 6-3 and 6-4. That trio had 31 points in UCI's upset win over the Vandals two weeks ago, but just 18 on Thursday.
Meanwhile, Westbrooks locked up guard Angie Ned, who scored 10 points on 3-of-17 shooting.
"The kids were outstanding defensively," UI coach Mike Divilbiss said. "Faurholt and Felton were outstanding with post defense. We had to work so hard defensively and then Ticey was extremely good guarding an outstanding player."
Divilbiss then glanced to his right where Mitchell was sitting. "And then this little one here. … how many steals did she have? A bunch of them. You don't want to put the ball on the floor with her anywhere in the area or it's gone."
Mitchell had 16 points in the first 12-plus minutes of the first half, but identifying her highlight reel play wasn't easy. On one play, she rose up and snatched a rebound away from 6-3 Joanna Usher. Or perhaps it was the pass she threaded between defenders to Heather Thoelke for a layup. There were at least a handful of plays when Mitchell made a steal or picked up a loose ball in the backcourt and capped the fastbreak with a layup or by feeding a teammate for a basket.
UC Irvine was within 49-44 when Mitchell and Faurholt combined for nine points as Idaho stretched its lead to 58-45.
"We were just trying to come out and just have a toughness about us," Mitchell said, "because when we lose games we don't play with any fire and we let people push us around."
Idaho, which dropped four of six to close the regular season, pushed back Thursday.
"We did have a rough stretch toward the end of the season," said Faurholt, who scored 21 points on 7-of-22 shooting. "We have a lot of young girls and it's a hard, long season. We just talked about toughness and leaving it out there on the court. We're not going to get pushed around and we're going to leave a mark. People are going to remember us."
Mitchell and Faurholt, a junior who led the nation in scoring last season, have already left a deep impression on Divilbiss.
"When you have players as gifted as these two you sit and you wonder are we ever going to get players as talented as these two again," Divilbiss said. "Do people understand how good these two are?"
UC Irvine 80, Idaho 67
UC Irvine (8-21)–Biggins 3-3 1-2 7, Mai 0-1 0-0 0, Ned 3-17 3-5 10, Jacob 1-5 0-0 3, Yadon 3-6 1-2 9, Forry 2-3 0-0 4, Tull 5-9 0-0 15, Martin 0-2 0-0 0, Usher 1-1 0-0 2. Totals 18-47 5-9 50.
Idaho (18-10)–Mitchell 9-15 6-7 27, Faurholt 7-22 5-7 21, Felton 1-3 1-1 3, Westbrooks 0-8 0-0 0, Thoelke 4-8 0-0 10, Sax 0-0 2-3 2. Totals 21-56 14-18 63.
Halftime–Idaho 32, UC Irvine 21. 3-point goals–UC Irvine 9-20 (Tull 5-7, Yadon 2-2, Jacob 1-4, Ned 1-6, Martin 0-1, Idaho 7-25 (Mitchell 3-5, Thoelke 2-6, Faurholt 2-8, Westbrooks 0-6). Fouled out–Felton. Rebounds–UC Irvine 35 (Biggins 11), Idaho 32 (Thoelke 11). Assists–UC Irvine 15 (Jacob 7), Idaho 13 (Mitchell 7). Total fouls–UC Irvine 17, Idaho 13. A–NA.
Idaho (8-22) – Dilla.Higdon 7-12 0-2 19, Lyons 2-8 0-0 4, Davis 2-6 2-3 6, Jones 7-16 1-2 19, Shepard 5-11 6-7 16, Haynes 1-6 0-0 3, Bowden-Key 0-0 0-0 0, Anderson 0-0 0-0 0, Kale 0-0 0-0 0. Totals 24-59 9-14 67.
UC Irvine (16-12) – Gloger 5-9 2-2 12, Campbell 1-4 1-2 4, Ethington 4-9 2-4 10, Fitzgerald 9-15 6-7 30, Schraeder 2-11 0-0 6, Fells 3-5 4-4 10, Armstrong 2-3 0-0 6, Sanders 1-3 0-0 2, Bruckner 0-0 0-0 0, Metelski 0-2 0-0 0. Totals 27-61 15-19 80.
Halftime—UC Irvine 38-36. 3-Point Goals—Idaho 10-20 (Dilla.Higdon 5-7, Jones 4-6, Haynes 1-5, Shepard 0-2), UC Irvine 11-23 (Fitzgerald 6-11, Armstrong 2-3, Schraeder 2-6, Campbell 1-2, Ethington 0-1). Fouled Out—None. Rebounds—Idaho 25 (Davis 8), UC Irvine 47 (Fells 12). Assists—Idaho 11 (Jones 4), UC Irvine 15 (Fells, Fitzgerald 3). Total Fouls—Idaho 15, UC Irvine 13.
Local journalism is essential.
Give directly to The Spokesman-Review's Northwest Passages community forums series -- which helps to offset the costs of several reporter and editor positions at the newspaper -- by using the easy options below. Gifts processed in this system are not tax deductible, but are predominately used to help meet the local financial requirements needed to receive national matching-grant funds.
Subscribe to the sports newsletter
Get the day's top sports headlines and breaking news delivered to your inbox by subscribing here.
---