Sports
Something's brewing
Sun., March 27, 2005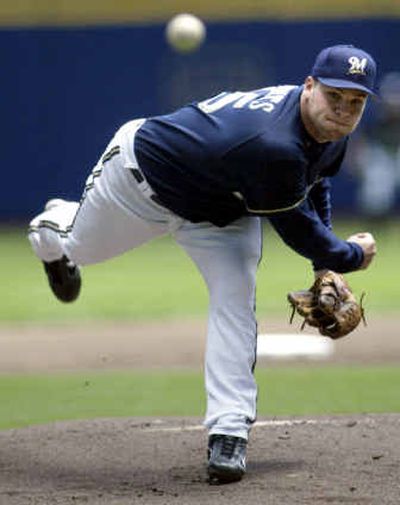 PHOENIX — Ben Sheets doesn't look back at last year and wonder what might have been.
For example, what if the Milwaukee Brewers had scored more than 19 runs in his 14 losses, the second-worst run support in the majors?
Or what if he didn't pitch with a bad back all year that required off-season surgery?
As it was, he set a franchise record with 264 strikeouts, second in the National League to Randy Johnson, to go with just 32 walks and a 2.70 ERA.
"Hopefully, I can do more, but maybe I did all I can," the 26-year-old right-hander said with a shrug. "You don't have to always be comfortable."
Last year, he never was.
Sheets, whose 12-14 record was a reflection of his poor run support, had a breakout season despite a herniated lumbar disc that pinched his sciatic nerve and shot searing jolts of pain down his left leg all summer.
At times he couldn't bend over. Other times, he couldn't stand straight. He never got a good night's rest and found himself unable at times to get out of the batters' box without using his left hand to push off the ground.
Every fifth day, he got stretched, warmed, loosened and medicated enough to take the mound.
"I wasn't worried about throwing the ball, I was worried about being able to pick it up," Sheets said.
Sheets never got a cortisone shot in his spine but instead relied on anti-inflammatories and stretching to make sure he never missed a start.
On Oct. 12, he underwent back surgery in Dallas, then spent six weeks waiting to resume his stretching and core strengthening exercises, a time in which his body tightened up like a coiled rope.
Sheets doesn't run any more than he has to because of the pounding it puts on his back. Once he could resume his regimen, he got into shape by bench-pressing, biking and doing Pilates exercises while making regular trips to his physical therapist.
Then, he grabbed his glove.
"I had no hesitation about throwing the ball," Sheets said. "The only hesitation was if I could get the ball off the ground. I knew if I could get if off the ground, I could throw it."
Team doctors predicted Sheets — who topped 95 mph on the radar gun during a minor league intrasquad game Friday — and his post-surgical back would be just fine. But general manager Doug Melvin wanted to see for himself last month before opening talks on a long-term contract extension with Sheets' agent, Casey Close.
One look this spring and Melvin knew Sheets was OK. The sides agreed to a $6 million, one-year contract in February to avoid a salary arbitration hearing.
Local journalism is essential.
Give directly to The Spokesman-Review's Northwest Passages community forums series -- which helps to offset the costs of several reporter and editor positions at the newspaper -- by using the easy options below. Gifts processed in this system are not tax deductible, but are predominately used to help meet the local financial requirements needed to receive national matching-grant funds.
Subscribe to the sports newsletter
Get the day's top sports headlines and breaking news delivered to your inbox by subscribing here.
---