Sports
Wizards upend SuperSonics
Mon., March 28, 2005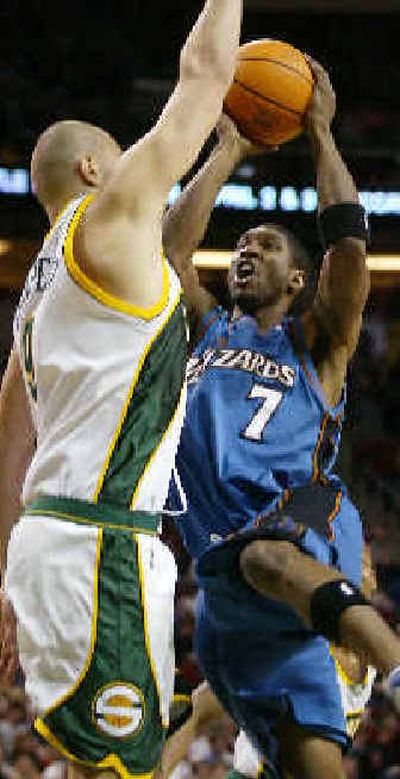 SEATTLE — Larry Hughes scored 31 points, including nine in the fourth quarter, to lead the Washington Wizards to a 95-94 victory over the Seattle SuperSonics on Sunday night.
The loss kept the Northwest Division-leading Sonics from clinching a playoff berth and ended their five-game winning streak. Ray Allen had 27 points to lead Seattle.
Kwame Brown gave the Wizards a 95-92 lead with 54.4 seconds left with a pair of free throws after being fouled by Nick Collison. Seattle's Damien Wilkins then scored on a layup after getting an offensive rebound with 37.4 seconds remaining to make bring the Sonics within one at 95-94.
Gilbert Arenas of Washington was called for an offensive foul for charging into the Sonics' Antonio Daniels with 16.7 seconds left and Seattle had one last chance.
But Hughes, the NBA's steals leader, stripped the ball away from Allen. The Sonics got the ball back on the play, but Daniels' last-ditch desperation 3-point attempt was far short as time expired.
Hughes had two steals of Allen and scored on fast-break dunks in the final quarter when the Wizards went on a 9-0 run for an 89-80 lead with 4:42 left.
Hughes, whose season high is 33 points and career best is 44, shot 12 for 28 from the field and had 11 rebounds. Arenas added 18 points and Etan Thomas added 15 for Washington, which beat Seattle for the second time this season.
The Wizards held the Sonics to 17 points in the third period and were up 75-67 heading into the final quarter.
The Sonics led by eight points in the first quarter, but the Wizards got 3-pointers from Steve Blake and Hughes in the final 1:09 of the second quarter in taking a 56-50 lead at halftime.
Local journalism is essential.
Give directly to The Spokesman-Review's Northwest Passages community forums series -- which helps to offset the costs of several reporter and editor positions at the newspaper -- by using the easy options below. Gifts processed in this system are not tax deductible, but are predominately used to help meet the local financial requirements needed to receive national matching-grant funds.
Subscribe to the sports newsletter
Get the day's top sports headlines and breaking news delivered to your inbox by subscribing here.
---