Sports
Stockton becomes statuesque
Thu., March 31, 2005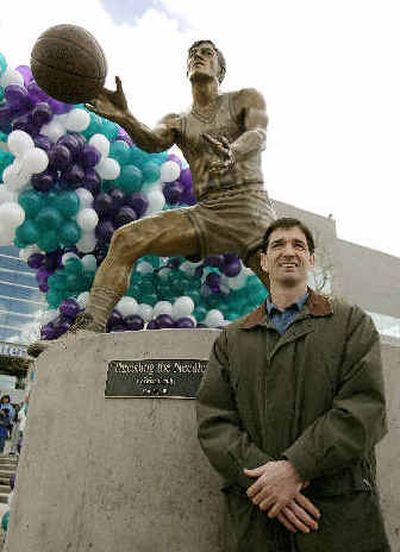 SALT LAKE CITY — Now, John Stockton truly is a permanent fixture with the Utah Jazz.
The Jazz honored Stockton on Wednesday with an 8-foot statue of the NBA's career leader in assists and steals, a rendering of Stockton making a one-handed pass in his trademark short shorts.
"It's quite humbling," said Stockton, who avoided personal attention as much has he could through his 19-year career.
The bronze statue features Stockton wearing an old-style Jazz uniform with a musical note forming the "J" in Jazz. It stands on a small plaza south of the Delta Center, just off "John Stockton Drive" — as the street was renamed after Stockton retired in 2003.
About 10 feet away is another concrete pedestal, where a statue of Karl Malone will stand. Malone played 18 of his 19 seasons with Stockton and is the second-leading scorer in NBA history thanks in large part to thousands of passes from Stockton.
Bronze plaques commemorating Stockton and Malone and their career achievements surround the pedestals.
"It will be good to see the big fella up here in short order," Stockton said.
The statue is about the last way the Jazz can honor Stockton. He had a farewell ceremony after he announced his retirement nearly two years ago, and his No. 12 was retired in November.
Jazz owner Larry Miller said the team is done with the tributes, which is just fine with Stockton.
Stockton was applauded by the few hundred people who gathered on the sunny afternoon to see his six children cut the ribbons and release a canopy of balloons that covered the statue.
Stockton made a few remarks to the fans, joking to the sculptor that the biceps were probably a little small.
Jazz coach Jerry Sloan, who coached Utah for nearly all of the Stockton and Malone era, sat quietly and watched as Stockton thanked him and credited everybody he played with for his success.
"I don't look at this as a statue of me as much as an embodiment of what this team has been about," Stockton told the crowd.
Utah took Stockton in the first round of the 1984 draft, using the No. 16 pick on a relatively unknown player from Gonzaga University who became one of the NBA's best players.
Stockton spent his entire career with the Jazz and finished with 19,711 points, 15,806 assists and 3,265 steals. He also holds NBA records for most assists in a season (1,164 in 1990-91) and highest assist average in a season (14.5 in 1989-90).
Local journalism is essential.
Give directly to The Spokesman-Review's Northwest Passages community forums series -- which helps to offset the costs of several reporter and editor positions at the newspaper -- by using the easy options below. Gifts processed in this system are not tax deductible, but are predominately used to help meet the local financial requirements needed to receive national matching-grant funds.
Subscribe to the sports newsletter
Get the day's top sports headlines and breaking news delivered to your inbox by subscribing here.
---