Sports
Sonics stomp on Spurs
Mon., May 16, 2005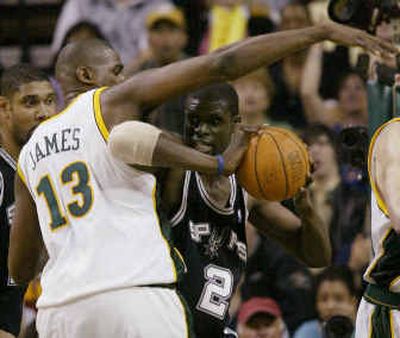 SEATTLE – Luke Ridnour skittered everywhere, dribbling around defenders and flipping in jumpers and runners. He showed no fear against Tim Duncan, bumping the big man on his way for layups.
It was a coming-out party Sunday for Seattle's second-year point guard, who had 15 of his 20 points in the third quarter to lead the Seattle SuperSonics to a 101-89 win over San Antonio, tying the series 2-2.
"That was great to see. He knows what he's capable of doing now," said Ray Allen, who scored 32 points.
Ridnour's points were a playoff career high, and he also had six assists. He shot 7 for 7 as the Sonics – winning decisively without injured All-Star Rashard Lewis – broke things open with a 36-point third period.
Ridnour finally had a breakout game after being overshadowed by Sacramento's Mike Bibby in the first round and embarrassed early in this series by San Antonio's Tony Parker, who scored 29 in Game 1 of the second round.
"I came off a lot of pick-and-rolls. I got some transition buckets," Ridnour said. "That's how I get going. We have guys who know how to make plays, myself included. Tonight it was just there."
Lewis was unable to run because of a sprained toe on his left foot. He was hurt in Game 3 and, after missing two days of practice, watched in street clothes on the bench.
The Sonics, who shocked nearly everyone by winning 52 games and the Northwest Division title, seemed inspired without him.
Now, they've made it into a best-of-3 series. Game 5 is Tuesday night in Texas.
"It's going to be tough to finish, but this is a good start," Ridnour said.
Antonio Daniels scored 19, while reserve forward Damien Wilkins had 15 points, six rebounds and five steals. After the horn, Reggie Evans held Lewis' No. 7 jersey aloft for a celebration at midcourt.
"We're going to make the best of it," Evans said. "Even though Rashard wasn't there, we're not going to make excuses. We just have to make it happen."
Duncan led the Spurs with 35 points, Manu Ginobili had 15 and Parker 12. But they spent most of the final period on the sideline. Without Lewis, the other Sonics raised their game – just as Spurs coach Gregg Popovich had feared.
"It's a coach's nightmare," he said. "You worry about a team playing inspired basketball, knowing that they're up against it. You worry about subconsciously letting down. You talk about it, but sometimes it makes no difference."
Seattle came out focused, jumping out with a 12-4 run and putting up 28 first-quarter points. The Sonics had their defense going, too, logging four blocked shots and forcing the Spurs into seven turnovers in the first period.
Then Ridnour got things rolling in the third.
The Sonics broke from a 54-54 tie with a 12-1 run midway through the quarter, with Allen scoring seven and Ridnour four. It was 82-66 after three periods after Ridnour made a jumper, a 3-pointer and flipped in a runner.
"Our bigs did a nice job of playing together, just forcing stops and allowing our guards to get out in transition in the third quarter. That's when we broke the game open," Seattle coach Nate McMillan said.
Seattle kept the momentum going, with Wilkins soaring for a bucket and Allen getting two jumpers opening the fourth to make it 87-67.
Much of the focus coming into Game 4 was on how San Antonio would defend a pick-and-roll that helped Seattle's Jerome James to a 7-for-7 shooting effort in Game 3. It was Ridnour doing the damage this time from the perimeter side of the play.
"We did a lot better job defending their bigs, but they killed us the other way," Duncan said.
Notes
Allen and Bruce Bowen drew double technicals for a pushing match during a dead ball early in the second half. It kept going, and Allen was called for an offensive foul seconds later. … After his 15-point effort in Game 3, James scored two points and missed all five of his field goal attempts. … Rasho Nestorovic was whistled for a technical foul early in the fourth. … University of Washington coach Lorenzo Romar was in the crowd, receiving a big cheer when he was introduced.
Local journalism is essential.
Give directly to The Spokesman-Review's Northwest Passages community forums series -- which helps to offset the costs of several reporter and editor positions at the newspaper -- by using the easy options below. Gifts processed in this system are not tax deductible, but are predominately used to help meet the local financial requirements needed to receive national matching-grant funds.
Subscribe to the sports newsletter
Get the day's top sports headlines and breaking news delivered to your inbox by subscribing here.
---