News > Idaho
EXCEL awards grants
Sat., Nov. 12, 2005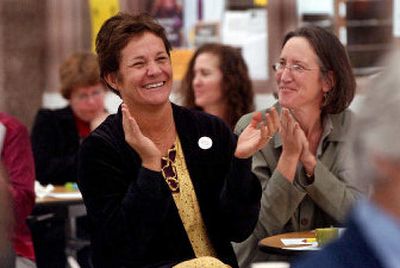 Teachers, administrators, guests and folks from the EXCEL Foundation munched on delectable hors d'oeuvres prepared by Project Coeur d'Alene culinary arts students, as EXCEL's grant awards were presented at Project CdA Nov. 3.
Twenty-five grants totaling $36,000 were presented during the event. This year EXCEL had 52 grant applications.
The EXCEL Foundation Inc. is a nonprofit community organization whose purpose is to benefit students in Coeur d'Alene School District 271. In deciding which applicants would receive grants, the foundation looked for projects that were creative, innovative and student-oriented. Applicants were encouraged to "think outside of the box" in developing a project that would bring joy to themselves and their students, and renew their passion for teaching.
Sorensen Elementary School third-grade teacher Becky Burke was awarded a $300 grant to build planter boxes and plant them with vegetables and sunflowers. She said many of her students had never even used a shovel or a trowel. "Planter boxes and more" will include students in grades 1 through 3.
Michele Mussman from Coeur d'Alene High school was awarded $293 for "Teens Crochet for Life."
"Thanks to the EXCEL Foundation for all you do," said Canfield Middle School teacher Kristi Nivette, who was awarded $1,305 for two digital cameras and other technology for sixth-graders to document their year for a CD to be distributed at the end of the school year.
Tony Slavko Prka and Mary Ruch of Woodland Middle School were awarded $150 to purchase a subscription to Brain Pop, an Internet-based program that reinforces comprehension in reading.
"Thank you for getting the vision of education into our community," said Mike Nelson of Coeur d'Alene High School, as he accepted a $1,759 grant for his project, "Building Bridges: Collaborating with our World." The grant will resurrect a videoconferencing lab with live video capability for use in curriculum in grades 9 through 12. The students and faculty will benefit from the ability to conference locally, nationally and internationally.
Dale Johnson, of Woodland Middle School, spoke of the growing problem of obesity in children, and was thankful for the $2,820 grant for "Cruising." He'll use the money to buy eight bicycles, four transportation racks and maintenance items for students in grades 6 through 8 to participate in an after-school cycling program.
The Bridge Academy, represented by Stephanie Bennett and Charles Kenna, received a $1,300 grant for "Inland Empire Discovery." Kenna was surprised at how many "transplants" were "profoundly ignorant" of the Inland Empire, so this grant will take them on excursions such as a visit to the mines in the Silver Valley. Other excursions will expose the students to local culture and industry.
Carol Nelson from Atlas Elementary was thrilled to receive $411 to purchase a karaoke machine for her second-grade students.
"This gives the kids a way to practice reading and fluency and give the kids who often don't get a chance to shine, to have their chance," Nelson said.
She added that the songs on the machine will be kid's songs, not what the adults are singing in their local karaoke bar.
EXCEL's "Big Event" next year will be called Jungle Fever, and, as the name implies, it will be safari-themed according to Heidi Rogers, co-president of the foundation. The "Big Event" is the annual fund-raiser.
For a full list of grants that were awarded, visit www.excelfoundation.org.
PF teacher honored
The Outstanding School Employee of the Month for October was Post Falls Middle School teacher Mary Rohlman. Rohlman was nominated by two eighth-grade students, Ryley Johnson and Hillary Schultz.
Ryley said of Rohlman, "She is someone whom I can trust with anything. She is the best teacher ever because she teaches me everything I need to know and explains everything so well."
Hillary said that "when your ISAT scores are really low, she will help you to understand why they were really low. She will have a special class you go to and you have to read every night … if you don't know how to spell a word or read it, she will tell you."
Rohlman received a plaque and a gift basket, and her name will be displayed on the Parker Toyota reader board throughout November. Ryley and Hillary each received $20 for their winning essays.
The Outstanding School Employee of the Month program is sponsored by Horace Mann Insurance and Parker Toyota.
Helping hurricane victims
Kudos to third-grade students at Skyway Elementary who collected more than 1,000 books to send to Tanglewood Elementary School in Louisiana. Third-grade families also provided treats for a bake sale and raised more than $300 to go toward books and shipping.
The Coeur d'Alene High School DECA club is selling GUND stuffed puppies for $16.99 to benefit Hurricane Victim Relief. They are approximately 13 inches high, hypo-allergenic and suitable for all ages. Call 664-6055 to purchase one of these loveable puppies.
Tea cup, saucer sets needed
Coeur d'Alene High is collecting cup and saucer sets for the mother-daughter tea for graduating seniors. Right now they have almost 100 sets but they need to triple that amount. If you have some sets to donate or want to "treasure hunt" at local thrift stores call Colleen Denning, hospitality chair at 772-0232.
Local journalism is essential.
Give directly to The Spokesman-Review's Northwest Passages community forums series -- which helps to offset the costs of several reporter and editor positions at the newspaper -- by using the easy options below. Gifts processed in this system are not tax deductible, but are predominately used to help meet the local financial requirements needed to receive national matching-grant funds.
Subscribe now to get breaking news alerts in your email inbox
Get breaking news delivered to your inbox as it happens.
---