News > Features
Proud role
Thu., Nov. 24, 2005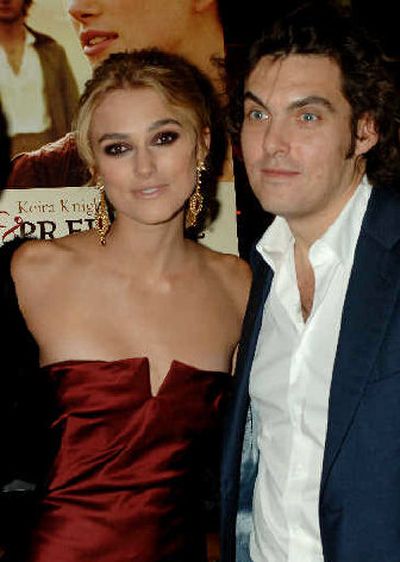 Keira Knightley's voice is so winsome and frothy that you can practically see those famous teeth and that million-dollar grin over the phone.
And why wouldn't she bubble? She's 20 years old and, constant cracks about being "boyishly thin" aside, she's stunning. Glamour, FHM, New Woman and Tatler have all named her "sexiest" this or "most desirable" that in the past year.
She just left the set of one of two "Pirates of the Caribbean" sequels, working with Orlando Bloom and Johnny Depp.
"Trying to do a scene with Johnny and trying desperately not to laugh at his performance is a true trial," she says, laughing. "There were a couple of times where I completely corpsed (actor's slang for botching a scene), and the entire crew would fall down and we'd have to do the entire scene again."
Even her failures celebrate her sexy chic. The babe-as-bounty-hunter thriller "Domino" may have flopped last month, but Knightley came through it smelling like an English rose.
And now she is showcased in her "dream role," the one any English actress with a literary-romantic bent would pine for. Knightley plays smart-mouthed yet always proper Elizabeth Bennet in the new film of Jane Austen's "Pride & Prejudice."
"I've been obsessed with 'Pride & Prejudice' since I was about 7," says Knightley, the daughter of a playwright mom and an actor dad. "My mom got it on book-tape, and I listened to it constantly.
"I had two dollhouses, a little one that was Longbourne, and the big one was Pemberley," she adds, naming the two main homes in the novel.
She read the book and watched the definitive and popular BBC/A&E version of the tale "endlessly." So much so that she refers, several times, to the actress playing Elizabeth Bennet in that version as "Elizabeth Ehle, oh, Jennifer Ehle."
So much so that she was scared to death to do the film.
"I desperately tried to not go up for this, even though I'd been completely in love with the book," Knightley says. "I couldn't see how not to do a copy of Elizabeth, um, Jennifer's wonderful, wonderful performance.
"But my mom said, 'Read the book again, and I guarantee you that you will see Elizabeth Bennet as yourself.' And she was absolutely right. … Any woman who reads it identifies with her so closely that she sees Elizabeth Bennet as herself."
"Pride & Prejudice" is Austen's classic tale of class, courtship and blown first impressions. It's about a lower upper-class family with multiple marriage-age daughters – the Bennets – and their dealings with their betters, mainly the families of men who would make nice financial matches for the down-on-their-luck Bennets.
It's about how the spirited and knowing Elizabeth misjudges, and is misjudged by, snobbish and icy Mr. Darcy, whom we just know eventually will melt under her spell.
"The reason I became an Austen fan is because the characters aren't perfect," Knightley says. "They're hugely flawed. With Elizabeth, she's everything that I, as a woman, would like to be. Or so you'd think. She's capable of those withering put-downs, terribly witty, independent, passionate.
"But sometimes, she's really (bloody) annoying, and you just want to kick her in the (behind) and say, 'Come on. What are you doing?' "
Knightley may be able to play perfectly prim and proper on the screen. But she can curse with the best 20-year-olds, which actually adds to her charm – what BBC critic Stella Papamichael calls "her tough-cookie routine." (Rest assured, when we print "bloody" and "behind," she's actually waxing much more colorfully.)
That "tough cookie" business is what Knightley wanted to bring to Elizabeth Bennet.
Her "Lizzie," as she calls her, "is a woman of her era, and ahead of her time," she says. "You can't take that 'of her time' propriety from her, because you've got to know the rules in order to break them. And that's what she does."
Knightley, her director, Joe Wright, and costume designer Jacqueline Durran set out to make a more mod Elizabeth than the quiet, vulnerable, utterly internal Elizabeth of most interpretations of the book.
"We wanted her clothes to get a vibe of freedom, something that Elizabeth could be seen running from one field to another in," Knightley says.
"There's all these little things, like Elizabeth doesn't wear gloves. That's such a rebellion. She's a character who isn't really thinking about what she looks like. She's too busy looking around her."
Knightley begged her parents for an agent when she was 3, so the story goes. At just 20, she is 17 films and a dozen TV movies or episodes into her career, a career as varied as the breakout soccer-girl performance in "Bend it Like Beckham," a "Doctor Zhivago" for British TV, "Pirates of the Caribbean," "Love Actually," "The Jacket" and "Domino."
"I'm trying to give people whiplash. I really am," she says. "I think I would get very bored if I kept on doing the same sorts of roles, over and over again. Can't wear a bodice every day, you know."
While "Pirates" will pay a lot of bills, "Pride" is the role she's happy to call her favorite. She loves the story's themes – "growing up, making mistakes, love, pride and of course, prejudice."
And she loves the timeless appeal of that hate-love affair, Elizabeth and Mr. Darcy, played by Matthew MacFadyen in the film.
"He's brooding. We all like a bit of a brooding guy, don't we?" says Knightley.
"And Darcy isn't a complete wanker. He's a wanker with a heart of gold, which is what you always want."
Local journalism is essential.
Give directly to The Spokesman-Review's Northwest Passages community forums series -- which helps to offset the costs of several reporter and editor positions at the newspaper -- by using the easy options below. Gifts processed in this system are not tax deductible, but are predominately used to help meet the local financial requirements needed to receive national matching-grant funds.
Subscribe now to get breaking news alerts in your email inbox
Get breaking news delivered to your inbox as it happens.
---