News > Business
Boeing machinists vote to strike
Fri., Sept. 2, 2005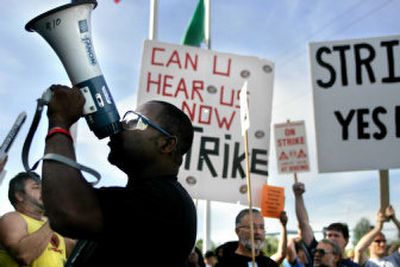 SEATTLE – Machinists at Boeing Co. voted overwhelmingly Thursday to strike, rejecting a three-year contract proposal their leaders had deemed "insulting."
The strike by more than 18,000 assembly workers at 12:01 a.m. local time today means Boeing will stop building commercial airplanes, and comes at a time when new orders had picked up in recent months. "We don't intend to assemble airplanes during this strike," Boeing spokesman Charles Bickers said.
Union members voted 86 percent in favor of a strike. Under union rules, the contract would have been automatically ratified – and workers would have stayed on the job – unless two-thirds of the union members voted to strike.
The strike will affect Machinists who build commercial jets and some key components in the Seattle area, Gresham, Ore., and Wichita, Kan.
"If the company wants to talk, they can call me," Mark Blondin, president of Seattle-based Machinists District Lodge 751, said after announcing the strike authorization
Company officials had said earlier in the week that a strike would be devastating.
Union leaders had urged the 18,400 members to "reject this insulting Boeing proposal," saying it fell woefully short on their top issues including pension payments and increased health care costs. District Lodge 751 is negotiating for employees in all three states, although some terms differ based on location.
Larry Weckhorst, a 16-year Boeing veteran from suburban Seattle, said he anticipated a strike was coming because "the mood was just different from three years ago" when the Machinists accepted what they considered a sub-par contract because of the airline industry's dismal state after the 2001 attacks.
Workers represented in the talks now receive an average of $59,000 a year. The company had said they would earn about $62,500 a year by the end of the new contract.
The union also was critical of increased health care costs and a proposal to eliminate retiree medical benefits for workers hired after July 2006, with the exception of laid-off workers who are recalled.
Local journalism is essential.
Give directly to The Spokesman-Review's Northwest Passages community forums series -- which helps to offset the costs of several reporter and editor positions at the newspaper -- by using the easy options below. Gifts processed in this system are not tax deductible, but are predominately used to help meet the local financial requirements needed to receive national matching-grant funds.
Subscribe to the Coronavirus newsletter
Get the day's latest Coronavirus news delivered to your inbox by subscribing to our newsletter.
---