News > Spokane
Remains unearthed in back yard
Fri., Sept. 2, 2005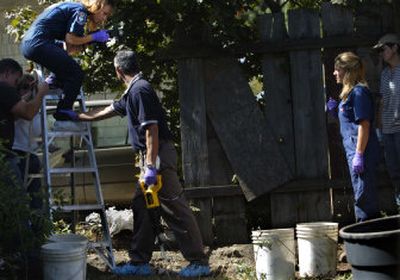 Spokane Police worked all day Thursday to excavate the buried remains of a 20-year-old man who has been missing since two days after Christmas 2002.
Investigators had always believed that Christopher B. Hallahan had been the victim of a crime. But detectives just recently received information that the young man from Yakima had been killed and buried behind a house at 2024 W. Boone Ave.
At the time, Hallahan was living in that house on Boone with 22-year-old Sam L. Hollingsworth and his girlfriend, who have since split up and moved elsewhere.
Police interviewed Hollingsworth and his girlfriend Prudence Leatherman after Hallahan's family reported him missing in March 2003. The couple provided alibis, but police had their suspicions that the couple wasn't telling the truth, Lt. Scott Stephens said.
Within the past few days, detectives talked to witnesses who claimed that Hollingsworth had killed Hallahan and buried him in the back yard of the now vacant home on Boone, Stephens said.
Detectives Lonnie Toffsrud and Craig Wendt located Hollingsworth on Wednesday. He first denied involvement, but later admitted to stabbing Hallahan to death on Dec. 27, 2002, according to court records.
Hollingsworth told investigators that he confronted Hallahan because he and Leatherman suspected that Hallahan had molested Leatherman's children, court documents say. He said that Hallahan denied the allegation and began a fight.
Hollingsworth said he stabbed Hallahan "all over." He also said Leatherman kicked Hallahan during the incident and later helped him bury the body in the back yard.
Since the killing is believed to have occurred in 2002, it will be added to the 23 other Spokane homicides that year. The Hallahan killing now makes 2002 the deadliest year on record in Spokane, Stephens said.
"I think it would be easy to give up on a case and write it off as another missing person because we have so many missing persons reported to us," he said. "But when (detectives) believe a crime has been committed, especially a felony crime like murder, they don't give up on the investigation."
After digging began, investigators spotted Hallahan's body wrapped in a blanket or carpet. Because his remains had been in the ground so long, detectives employed help from the Medical Examiner's Office and archeologists from Eastern Washington University.
"Really, what it becomes is an archeological dig and recovery of evidence," Stephens said. "It really is very fascinating. It's a meticulous, slow process."
Hollingsworth was booked in the Spokane County Jail on a count of second-degree murder. Bail was set at $1 million.
Members of Hallahan's family, who live in Yakima, could not be reached Thursday for comment.
The house where the crime occurred is currently vacant, and the occupancy of the home has changed several times since Hollingsworth and his girlfriend moved out. Stephens said the homeowner lives elsewhere.
Ryan Shine, 26, was working on his vehicles which were parked on Belt Street, just down the alley from where police were digging up Hallahan's body.
"My daughter's uncle walks his dog through that alley all the time," said Shine as he stared at the digging activity and police tape. "It's too close to home."
Local journalism is essential.
Give directly to The Spokesman-Review's Northwest Passages community forums series -- which helps to offset the costs of several reporter and editor positions at the newspaper -- by using the easy options below. Gifts processed in this system are not tax deductible, but are predominately used to help meet the local financial requirements needed to receive national matching-grant funds.
Subscribe now to get breaking news alerts in your email inbox
Get breaking news delivered to your inbox as it happens.
---