News > Idaho
Sunset lanes in CdA may reopen
Fri., Sept. 9, 2005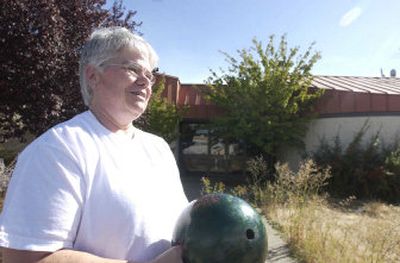 To understand the significance of Sunset Bowling Center's possible reopening, you have to talk to people like Mary Sperber and Gena Loper.
For the first time in four decades, Sperber didn't bowl this year because she couldn't do it at Sunset, her alley of choice since it opened in 1983.
Same goes for Loper, her husband and their kids. They used to go so often – for practice, league games, birthday parties, meetings – that they would mistakenly drive there even after it closed.
For these people and many others in Coeur d'Alene, the news that Sunset might make a comeback means they may pick up their bowling balls again.
The alley, 202 W. Sunset Ave., closed in May 2004 after the owner filed for bankruptcy. People who went there, though, say there was no shortage of customers – the youth league alone had 300 players. They believe the problem stemmed from the owner's other business investments.
Coeur d'Alene has been without a bowling alley since. The nearest one is in Post Falls.
Sunset's future isn't secure yet, though. The couple who bought it, developer Bill Radobenko and his wife, Julie, haven't decided what their next step is.
The couple may keep the alley and hire a manager to run it – people from as far as Nevada have expressed interest in that position. Or they may sell it to someone else.
"It will be a bowling alley as long as it stays in our hands," Julie Radobenko said. She said they bought the center as a service to the community. She declined to say how much it cost.
Her husband underwent surgery Wednesday, so plans for the alley are on hold right now, Julie Radobenko said. But it could open sometime next year.
A former manager at multiple bowling centers, Mike Piper, is one of the people who can see Sunset's potential. "There could be leagues there from dawn until dark every day," Piper said.
He envisions a sports bar opening there. Homemakers could play in the morning if they wanted; the alley has baby-sitting facilities. Middle and high schools could have bowling classes there.
"This house is friendly to everyone, the beginner bowlers to the professional bowlers and everything in between," said Piper, who played there for 15 years. "This house has everything to offer."
Bowling was a way for Loper's family to keep active in the winter, she said. It became a huge part of her sons' lives: Josh was 8 and Greg was 5 when they first joined leagues, Loper said.
"It's a great sport for a growing body to develop balance, coordination, self-control, sportsmanship," she added.
If there's one place Loper's sons, now 19 and 17, associate with their childhood, it's Sunset.
"We quit bowling when it shut down," Loper explained, "because we didn't want to go anywhere else."
For people who spent several days of the week at Sunset, the alley became more than just a place to knock down pins.
"It was just a fun gathering place," said Sperber, the 40-year bowler.
Sperber said she gets sad when she sees weeds at the entrance. The place used to be immaculate, she said. "It can be that way again. We just got to wait and see."
Local journalism is essential.
Give directly to The Spokesman-Review's Northwest Passages community forums series -- which helps to offset the costs of several reporter and editor positions at the newspaper -- by using the easy options below. Gifts processed in this system are not tax deductible, but are predominately used to help meet the local financial requirements needed to receive national matching-grant funds.
Subscribe now to get breaking news alerts in your email inbox
Get breaking news delivered to your inbox as it happens.
---